After Mika Says Paul Ryan Sold Out, Trump Tweets He's Boycotting 'Morning Joe' (Again)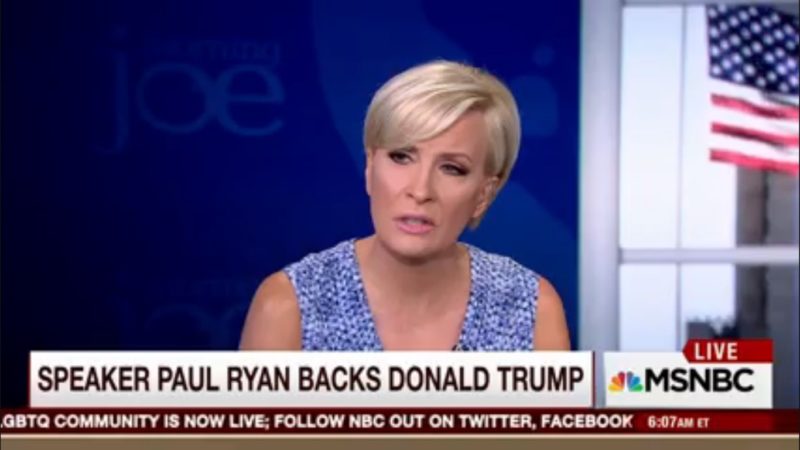 Another day, another attempt by Donald Trump to get the press to acquiesce to his every little demand.
A day after Speaker of the House Paul Ryan finally came out of the closet and declared that he was indeed a Trump supporter, Morning Joe co-host Mika Brzezinski stated unequivocally that he "sold out." After reading a Washington Post editorial excoriating Ryan for making a craven, politically expedient decision despite presenting himself as a deeply principled conservative who was struggling with this conundrum, Mika doubled down on the editors' comments.
During a panel discussion that included former Bush staffer Nicolle Wallace and political hack Mark Halperin (but no Joe Scarborough), Mika railed against Ryan's endorsement, pointing out that Trump had not done anything particularly presidential or even adult-like in the days leading up to the Speaker's announcement. Hell, the past few days for Trump were spent whining about the press, condemning a judge for being Mexican and acting more unhinged than normal.
Below is video of the segment, courtesy of MSNBC:
Well, you just can't say shit about Trump without him counterpunching, y'know. And so we got this tweet later on in the morning:
I don't watch or do @Morning_Joe anymore. Small audience, low ratings! I hear Mika has gone wild with hate. Joe is Joe. They lost their way!

— Donald J. Trump (@realDonaldTrump) June 3, 2016
If this seems like deja vu, it's because the ex-reality TV star did the same thing less than a month ago. At that time, the Trumpster was pissed that Joe said it was the perfect time — Trump had just captured the nomination after Ted Cruz dropped out — for conservatives to rally behind a third-party candidate. The Donald went on a trademarked tweetstorm, followed by Joe responding back in kind. Of course, the whole thing was water under the bridge two weeks later when Trump called in for a lengthy interview.
And we all know this is what is going to happen again. Trump will eventually show back up on Morning Joe. The hosts will say something positive about him, or extremely critical of Hillary Clinton, and he'll pretend nothing happened. Considering that he's not a big fan of CNN's New Day due to host Chris Cuomo's interviewing style, and you can only do Fox & Friends so often, Trump's Morning Joe 'boycott' will last all of a week or two before he relents.
We've seen this game played too often at this point. He did it on a monthly basis with Fox News and now multiple times with MJ. It's just his way to try to get them to treat him 'fairly.'