MSNBC Conveniently Fails To Mention That Chris Matthews' Wife Lost Her Congressional Bid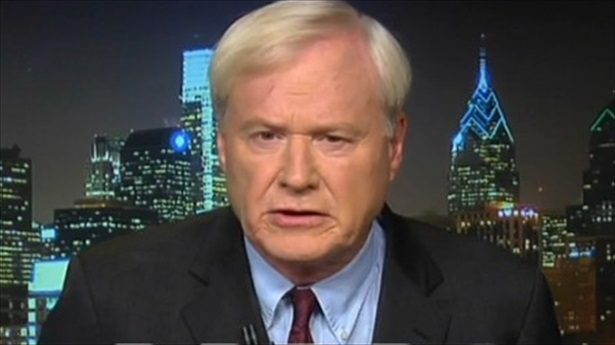 Well, that was weird.
It had already been suggested in the past months that there was a bit of a conflict of interest going on regarding MSNBC host Chris Matthews and his wife's ultimately failed Congressional bid. The concerns got louder when it was revealed that a number of Hardball guests had donated money to Kathleen Matthews' Democratic campaign, some shortly before or after appearing on the program, making it appear that there was a quid pro quo going on.
For his part, Chris Matthews did mention when his wife tossed her hat into the ring to succeed Maryland District 8's Chris Van Hollen — he was leaving the House to run for Senate — that he would recuse himself from talking about her race. And we heard very little about the race on his network. However, this took a turn to the somewhat ridiculous on Tuesday night.
While MSNBC's election team discussed the numerous primary results in the five Northeastern/Mid-Atlantic states, Chris Matthews was conspicuously missing. This seemed quite odd, considering that this was in the network's backyard, and Matthews would never miss an opportunity to opine about WHAT IT ALL MEANS regarding election tallies.
But, lo and behold, his wife was waiting on results from her primary race in MD-08, and Chris must have decided to take the night off to be with her. MSNBC anchor and serial fabulist Brian Williams did make brief mention that Matthews was off attending family matters, but that would be the last hint that Kathleen Matthews was even involved in a race that was occurring that night.
Now, if Ms. Matthews were in a primary that she easily won, or was unopposed, it would make sense to not really mention anything about it. Except, that wasn't the case this time. See, Kathleen Matthews ended up finishing third. The winner, Jamie Raskin, was outspent by both her and millionaire businessman David Trone. In fact, Trone and Matthews spent a combined $15 million in the most expensive House race this season. (The primary winner is basically assured a House seat.)
This was a major story on Tuesday, especially as most of the Presidential primaries were decided right after the polls closed. Besides Van Hollen winning the Maryland Democratic Senate primary, this was THE big down-ballot race to watch on Tuesday. And MSNBC decided, "Ehh, fuck it. Let's not really bring it up because it will hurt Chris's fee-fees if we mention his wife finished in third place." So, they left it alone, never personally bringing her up and only barely mentioning that Raskin beat the odds.
MSNBC, The Place For Politics. Except, of course, if the politics make one of their own uncomfortable.