Fox News Host Criticizes Both Sean Hannity And Greta Van Susteren For Going Easy On Trump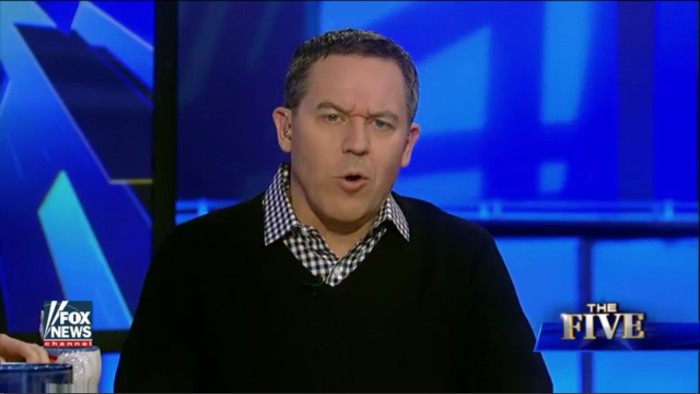 One thing that has become crystal clear over the past few months has been that over on Fox News, there are now two distinct camps — the pro-Trump sycophants and the #NeverTrump gang. This was finally acknowledged publicly last week when The Five co-host Greg Gutfeld, a vocal Trump critic, stated on the air that Trump's campaign had caused tension at the network and that it could potentially implode like Breitbart.
On Sunday night, Gutfeld decided to take to Twitter to call out a couple of his colleagues that could be labeled Trump apologists — Greta Van Susteren and Sean Hannity. After Van Susteren completed a town hall event with Trump that was aired on Fox News Sunday evening, Gutfeld criticized the softball nature of the special. He also noted that Trump was scheduled to appear on Hannity Monday night, which was surely going to be another easy interview.
glad he's added a new wrinkle to his campaign https://t.co/GQIDoAZbz0

— GregGutfeld (@greggutfeld) April 4, 2016
whew another rough one for trump. how does he put up with this stuff!!

— GregGutfeld (@greggutfeld) April 4, 2016
According to my score, Donald Trump won tonights debate by an overwhelming margin (i scored it 1012 to 0)

— GregGutfeld (@greggutfeld) April 4, 2016
i have been informed tonight wasn't an actual debate, but nonetheless, the other candidates clearly were too scared to show up.

— GregGutfeld (@greggutfeld) April 4, 2016
and get this: tomorrow Trump's gunna be on Hannity, so u know Donald will be facing the fight of his life. Thoughts and prayers.

— GregGutfeld (@greggutfeld) April 4, 2016
Greta recently lectured a group of conservative women who called on Trump to fire Corey Lewandowski over his treatment of former Breitbart reporter Michelle Fields. Van Susteren had been an early defender of Trump's camp regarding the Fields' accusations.
Meanwhile, Hannity has long offered sanctuary to Trump, especially when he is dealing with the fallout of a self-made controversy. Considering he's come off of a horrendous week and it looks like he's not going to win the Wisconsin primary, it only makes sense that he appear on Hannity's show to receive a big ol' bear hug.