Mainstream Media Buys Trump's Narrative And Helps Him Victim Blame Michelle Fields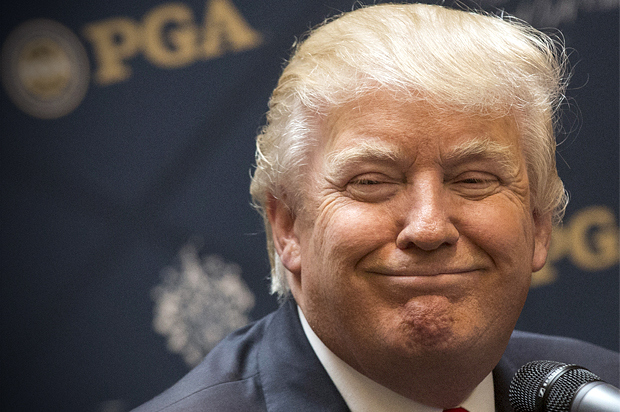 This was all so utterly predictable.
Despite video/audio/physical evidence, a police report, an arrest, eyewitness accounts and the words of the victim herself, Donald Trump was effectively able to get much of the mainstream media to buy his narrative over the battery charges his campaign manager faces. At the same time, he's also been provided a large forum to uncritically victim-blame Michelle Fields, the former Breitbart reporter who filed a criminal complaint against Corey Lewandowski for grabbing and bruising her arm at a press conference earlier this month.
Shortly after Lewandowski's arrest in Florida on Tuesday, Trump took to his Twitter account to smear Fields, because that's what he does — he punches down. And punches hard. Eventually, he flipped the script to make it that Fields was an imminent danger to him, that she may have been carrying a pen bomb (seriously), and that he may think of pressing charges against her for assaulting him. And, thus, the stage was set for his upcoming media appearances.
During his CNN town hall appearance with Anderson Cooper, he reiterated that Fields was the one who assaulted him and that Lewandowski grabbed her because she may have been carrying a "little bomb." He also told Cooper that Fields changed her story after she saw the tape, asking the anchor to read from a piece of paper with HUGE black type on it that contained a portion of Fields' original statement. (Of course, she hasn't changed her story, and nothing she originally said has been contradicted by the tape, but who cares, right?)
On Wednesday morning, despite a supposed concerted effort by the networks to stop letting Trump call in for interviews, he did three phoners — Fox & Friends, NBC's TODAY and ABC's Good Morning America. As Media Matters highlighted, the fact that he called into each of these programs allowed him to steamroll over any interviewer that tried to interject when he was going off on a lengthy tirade against Fields. Instead, he was just given minutes of uninterrupted TV time to spew vicious rhetoric about a woman who was forced to resign her job due to this situation.
But it wasn't just the copious amounts of airtime he was personally given to victim shame Fields and present his own version of reality. No, it was the fact that many reporters, hosts and pundits bought the narrative he was selling. Now, considering Fox News got right on board with this shouldn't come as any surprise. Even if they are dealing with their own internal Trump/#NeverTrump strife, the one thing they can all seem to agree on is that most women are attention seekers prone to histrionics. Thus, they had no problem swallowing this hook.
The real issues were what we witnessed on MSNBC and CNN. During Wednesday's Morning Joe, hosts Mika Brzezinski and Joe Scarborough browbeat HuffPost writer Sam Stein for defending Fields and calling out the blatant victim blaming coming from Trump. In their mind, Stein was being patently unfair to Trump and not looking at both sides. They also claimed that Fields was obviously exaggerating what occurred to her and that she had changed her story.
Meanwhile, CNN host Alisyn Camerota had her "both sides" framework on the ready Wednesday morning. After playing the police video, she pointed out that Fields didn't appear to be pulled to the ground, stating that some of her story doesn't hold up. It should be pointed out that Fields never said she hit the ground, just that she was pulled hard enough to almost make her go down. But, in Camerota's view, the video seems to show that maybe both sides have a valid argument.
As Mediaite's Tommy Christopher points out, this is a dangerous game the media is playing:
If you were to rely only on the video, the Trump/Lewandowski version of events might hold a few ounces of water, but the media needs to be consistent and vigilant about reporting this story. Michelle Fields reported her version of events in near-real time, while Lewandowski lied and smeared. Fields produced evidence of her injury. Fields had, and has, a credible and reliable witness. The "both sides" siren song is a powerful one for the mainstream media, but there really aren't two sides to this story, and the media should resist the urge to Zapruder this security video to death. She says he grabbed her, the video shows he grabbed her, even though he said he didn't. The end.
By buying and selling Trump's story and presenting his distorted form of reality, all while uncritically allowing him to smear a young woman who had the audacity to call out abhorrent behavior,  the media is complicit in the ongoing victim blaming that occurs to women in this society. As Fusion's Kelsey McKinney pointed out on Tuesday, Trump is "enabling, dismissing and then covering up the abuse of women." Even though there is video of the incident, it happened in a public place and there is an eyewitness, people are still buying Trump's narrative that she made it up and caused the bruises on her arm herself.
And, why are they believing it? I think you know the answer.