Joe Scarborough And Mika Brzezinski Browbeat HuffPost Editor For Defending Michelle Fields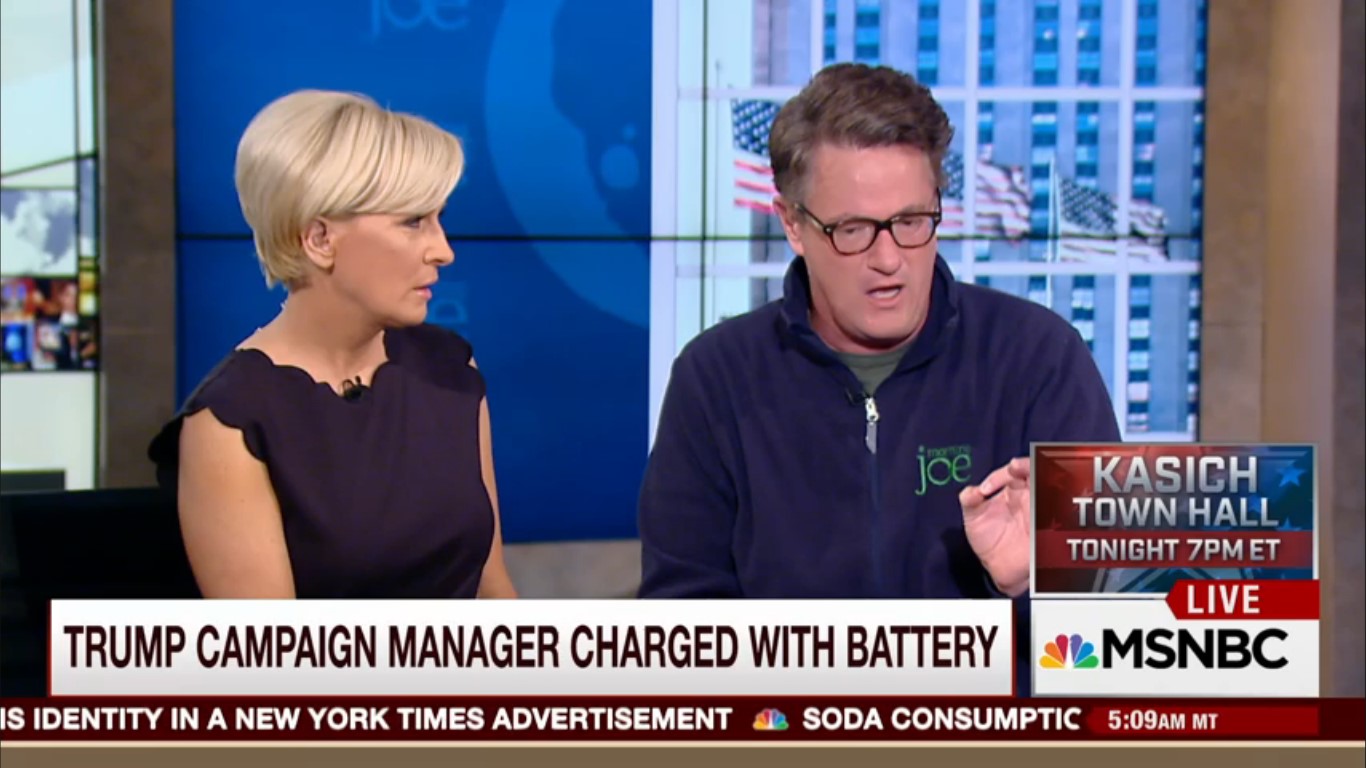 Over the past few weeks, after media criticism of Morning Joe's pro-Trump coverage hit critical mass, the MSNBC program's hosts have gone out of their way to show that they really aren't in the tank for The Donald. Whether it be Joe Scarborough saying Trump's non-disavowal of the KKK was "disqualifying" or the duo's forced semi-compliments of Hillary Clinton, it has been apparent that they've made an effort to change public perception.
But, habits are hard to change, and on Wednesday, Joe and Mika Brzezinski just couldn't help themselves when it came to coming to the defense of Donald Trump and his campaign manager, Corey Lewandowski. During two separate segments discussing Lewandowski's recent arrest for simple battery involving former Breitbart reporter Michelle Fields, the pair targeted Huffington Post writer Sam Stein as their designated whipping boy. In their opinion, Stein was too focused on defending Fields and wasn't looking at "both sides" of the story.
In the first segment, Scarborough said that the story has been blown out of proportion due to the visceral hatred that the press has for Donald Trump. In response, Stein pointed out that Lewandowski "demonstrably lied" in the beginning, claiming he never touched Fields and engaged in textbook victim blaming. However, Joe wouldn't let it go, and once again said this was all due to hatred of Trump and that there was no perspective. (Yeah, because it is commonplace for reporters to file criminal charges against presidential campaign managers and Trump is being treated unfairly.)
Below is video of the exchange:
.@realDonaldTrump makes a strong defense of his campaign manager. The #morningjoe panel reacts. https://t.co/xKEl0A7oXY

— Morning Joe (@Morning_Joe) March 30, 2016
At the end of that first segment, Mika said she had some thoughts but didn't want to get into it at that time because they were facing a commercial break. Anyone who watches Morning Joe knows that this just meant that Mika was going to give her serious face later on and engage in a bunch of false equivalency. Which is exactly what we got!
Talking about this some more, fellow panelists Bob Woodward, Cokie Roberts and Michael Steele all tossed in their two cents, providing some standard Washington establishment deep thoughts on the subject. After everyone weighed in on what the political consequences for Trump would be — the consensus is it won't hurt him in the primary but compounds his issues in the general — Stein noted that this isn't as silly a story as Joe and Co. were making it out to be.
See, in Stein's view, it touches on a number of issues, specifically the treatment of the press by Trump, men victim blaming women and Trump's inability to apologize. At that point, both Mika and Joe blew the fuck up on Stein. Acting as a tag-team, the two hammered away at the HuffPost editor, claiming that not only had he taken time away from real news, but that he was unfairly maligning Trump by solely focusing on Fields' side of the story.
Both Mika and Joe bullied Stein for roughly a minute, pushing him to provide Fields' initial statement regarding the incident and compare it to what they saw on the video. They then wanted him to admit that Fields was exaggerating what happened to her. In essence, the co-hosts were trying to make Stein victim-blame Michelle Fields. He even pointed out that they were putting him on a spot and he felt like he was on the stand in court.
The next time Mika tries to claim that she's a feminist and that she wants women to 'Know Their Value,' someone needs to show them this tape.
Below is video of the segment, courtesy of MSNBC: