"But, What About The Children?" Cokie Roberts Corners Trump On Impact Of His Bigotry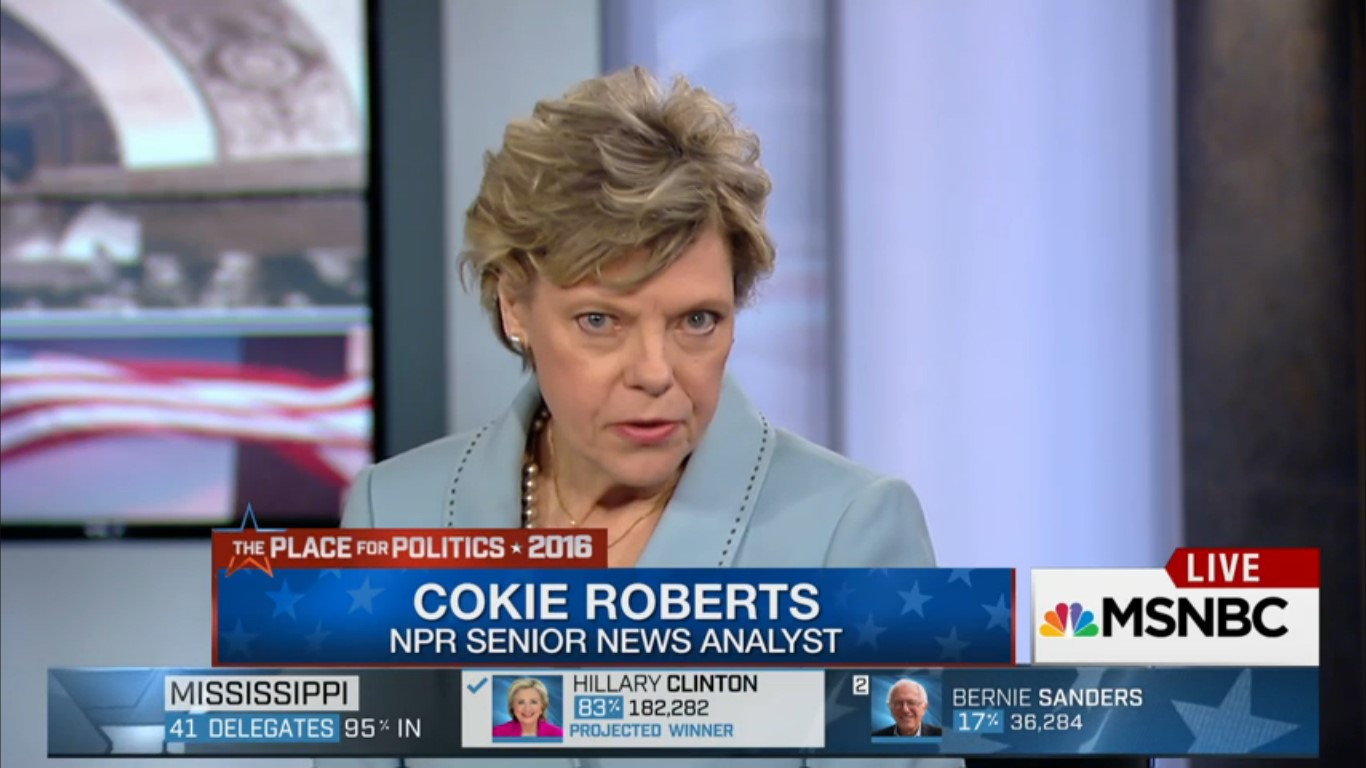 The morning after he won three of four primaries and maintained his lead against runner-up Ted Cruz, GOP Presidential frontrunner Donald Trump called in to Morning Joe for the second day in a row. While the previous morning's phone-in conversation was your typical Trump smoochfest, Wednesday's interview got far more tense, largely due to the presence of an actual journalist, NPR's Cokie Roberts.
While Joe Scarborough and Mika Brzezinski focused most of their time on praising Trump for his victories and dominance over Little Marco, the veteran reporter decided to crash the party and finally make Trump very, very uncomfortable. Referring to various stories over the past weeks of white high school children harassing Latino and black classmates, Roberts pressed the celebrity billionaire on the impact his campaign rhetoric is having on the youth of America.
Of course, as you'd expect, Trump denied even knowing about any of this and took no responsibility for the harmful effects he's having on the psyche of the nation. However, to Roberts' credit, she would not allow Trump to just bowl her over with the same tired-ass cliches he's been tossing out for months now. Every time he'd say how he's trying to make America great again, or there will be a big beautiful door in his amazing Mexican wall, Roberts would pivot back to the question and attempt to force an answer out of him.
Sure, all we got were denials from The Donald. And, you know he'll use his bully pulpit to excoriate Roberts over the coming days. (He already told her it was a "very nasty question" during the interview.) But the main takeaway here is that Roberts showed other journalists and reporters how they should handle Trump. While the media was focusing on Trump's lack of disavowal of the KKK and David Duke, they should have followed up with these stories of white kids using Trump's rhetoric to bully minorities, and pressed him further on it.
The thing is, Trump's rhetoric about Mexican rapists, blacks killing whites and Muslims needing to be banned have real-life consequences, and it ain't good. He is fomenting true hate within not only the hardened racists of this country, but the youth, which is absolutely terrifying. It is the job of the fourth estate to call him out on this when they have the chance to speak to him…and they have MANY opportunities to do so.
Below is video of the segment, courtesy of MSNBC: