Donald Trump Crashes And Burns In First National Poll Since Losing Iowa Caucus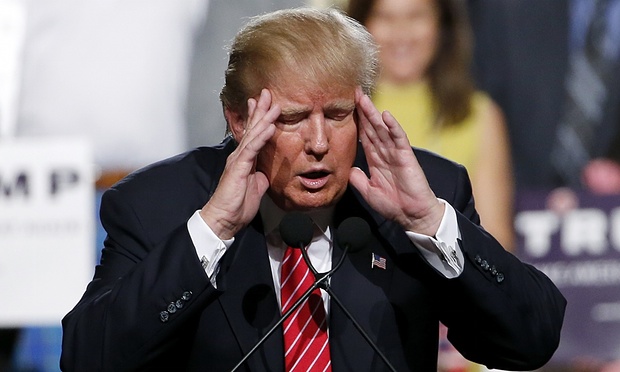 On Thursday, we got our first glimpse into the damage losing the Iowa caucus has caused Donald Trump's campaign.
Having built the entire premise of his run for the White House on the notion that he's the ultimate winner, former Republican Presidential frontrunner Donald Trump had to suffer the indignity of coming in a somewhat distant second place to Ted Cruz during Monday's caucuses. He barely escaped a third-place finish, as Marco Rubio outperformed the polls, grabbing 23% of the vote. Since then, Trump's bitched and moaned about how Cruz is a cheater and the people of Iowa didn't appreciate how rich he is.
In the first national poll released since Monday's results, Public Policy Polling shows Trump has fallen nine points to 25% since their last survey. Meanwhile, Rubio jumped eight points to 21%, tying Cruz for second place. Cruz's increase was more moderate, as he improved by three points. Retired neurosurgeon Ben Carson sits in fourth place at 11%. No other GOP candidate cracked 5% nationally.
The survey, which was conducted on February 2nd and 3rd, has more bad news for the celebrity billionaire. In terms of net favorability among Republican voters, the former reality TV star only scores a +7, as 41% of respondents see him in a negative light compared to 48% who view him favorably. This is a large drop from the last poll, where he had a net rating of +24. It seems that all the whining and personal attacks on other candidates is starting to catch up with him, even among the GOP base.
On the flip side, both Rubio and Cruz score well with conservative voters, with Cruz getting a net favorable of +30 and the Florida Senator receiving a +43. All the punditry talk about Marco's momentum coming out of Iowa may actually have some merit. At the very least, it seems like he's taken control of the so-called establishment lane in this race, much to the chagrin of Jeb Bush, Chris Christie and John Kasich.
Of course, we still have a New Hampshire primary to get through, and polling still shows Trump with a nearly insurmountable lead there. However, we've only seen polling in that state from one agency, UMass/7News. Their daily tracking survey has seen Rubio gain seven points in just three days. It will be interesting to see what polls say over the weekend ahead of Tuesday's primary. It should also be pointed out that we already have a case study showing Trump's polling support may not translate into actual votes.