Ben Carson's Mad That Fox Moderators Didn't Wake Him From His Nap At Debate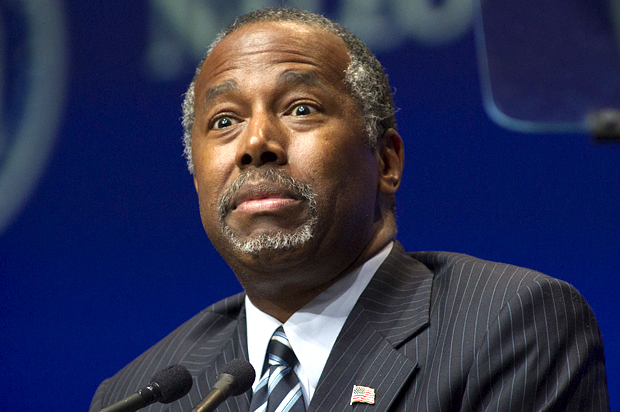 Considering the completely goofball answers he gave when asked questions at Thursday night's GOP debate, you would think free-falling Republican Presidential candidate Ben Carson would prefer not to bring up the event and move on. Well, you'd be wrong.
Calling in to The Hill on Friday, the retired neurosurgeon openly complained about the lack of speaking time he received at the debate, claiming Fox News' moderators failed to call on him more often because he wasn't interested in attacking his rivals.
"You're not going to go to the person who's not going to fling mud," Carson whined. "This is entertainment. Our country has become sort of more like ancient Rome with the coliseum. Everyone wants to go to the coliseum and they want to see the blood and the gore even though society is deteriorating around them.
It would be nice if the moderators tried to be a little more equitable. I understand they want to stoke controversy and they know that I probably won't get into a big fight with someone, so they'd rather go some place they can stir up a fight."
According to NPR, Carson received the least amount of speaking time, clocking in at a little over six minutes. In comparison, both Ted Cruz and Marco Rubio spoke for more than 13 minutes a piece. Of course, both Senators are currently second and third in national and Iowa polls, while Carson has seen his numbers drop precipitously since briefly topping current frontrunner Donald Trump in the national Republican polls last fall.
Now, other lower-polling candidates got more speaking time, but they were also more aggressive in getting involved, interrupting others or going over their allotted time when asked a question. Many of the candidates have legit beefs with each other due to attack ads or policy differences, so they typically mentioned each other, leading to rebuttals. None of them could give a shit about Carson.
Finally, whenever Carson did speak, he gave nonsensical answers to questions, once again letting voters wonder why the hell he is even running for President. I mean, he called Vladimir Putin a "one-horse country" and thinks all of this country's ails are due to political correctness. Nobody needed to hear more than six minutes of that stuff. Six was more than enough.