Jeb Bush: I May Ask My Brother To Campaign For Me Because "He Is Very Popular"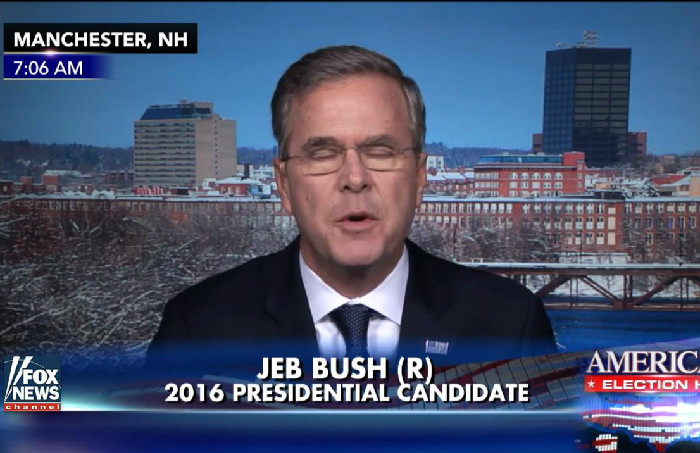 Things just aren't going well for Jeb! lately. He's seen his poll numbers tank over the last few months. Donald Trump has made him his personal bitch. The former Florida Governor has wasted tens of millions of dollars on ineffective ads and has since had to shift resources and staff. With all of this snowballing adversity, one has to wonder how this has impacted Bush's state of mind.
Well, if the bottom-tier GOP candidate's Tuesday morning interview with Fox & Friends is any indication, ol' Jeb may be suffering from some kind of delusional disorder. Speaking to the curvy couch sitters, Bush tried to convince the hosts (and himself) that everything is going swimmingly in his moribund campaign. He made sure to get in the mandatory shots on likely Democratic nominee Hillary Clinton, calling her "untrustworthy" about a hundred times, while concluding with his belief that Donald Trump would lose in a landslide if he were the GOP candidate.
That is all standard stuff, though. It was a moment in the middle of the conversation that showed just out of touch Jeb with exclamation point really is.
Co-host and mouth-breathing aficionado Brian Kilmeade asked the White House hopeful what his thoughts were on Hillary bringing her husband, popular ex-President Bill Clinton, out on the campaign trail. After initially taking Kilmeade's question as an opening to attack the former Secretary of State, the Fox host pointed out that the question was really about seeing if Jeb was thinking of having his brother, former POTUS George W. Bush, stump for him.
Finally understanding the point Kilmeade was getting at, Bush stated he would consider it due to his brother being very popular among conservatives, much like Bill is with Democrats.
"It is something to consider because he is very popular. And I also know I need to go earn this…My brother has been a strong supporter and I love him dearly. He'll continue to play a constructive role."
Now, to be fair, this is Jeb's bubba, so he's going to say only positive things about him. However, prior to leaving office, Dubya's approval rating dipped to 22%. While he was able to get his rating up around 50% at one point in mid-2015, that was also before Trump got in the race and placed Jeb! in his crosshairs. Since then, he's constantly taken shots at the Bush Administration, much to the delight of his fervent fans.
So, go ahead and bring the hermit out of his hollow and have him make speeches on your behalf. While I am sure there are many conservatives and Republicans that want to look back fondly on the Bush years, they will be awfully conflicted due to their embrace of The Donald, whose special brand of know-nothingness makes W. Bush look like a Rhodes Scholar. (Which Bill Clinton just so happens to be.)
Below is video of the interview, courtesy of Fox News: