Paul Ryan: I'll Continue To Take Time Off For Family But Screw The Rest Of Working Americans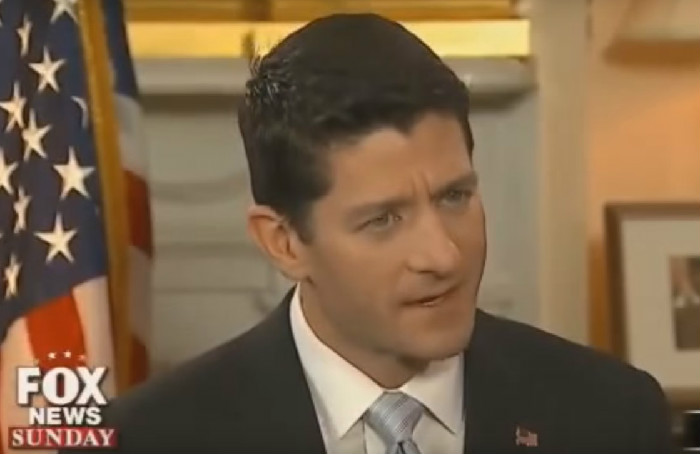 Days after being elected Speaker of the House, replacing the retiring John Boehner, Rep. Paul Ryan (R-WI) appeared on all five Sunday news shows to discuss his new position and his plans over the coming months. During one of his stops, the former Vice Presidential nominee answered criticism over his demands that he be given time to spend with his family, all the while expressing his disapproval for President Obama's push to provide guaranteed paid time off for workers so they can be with their families. The so-called policy wonk claimed that there was no hypocrisy on his part.
Speaking with Fox News Sunday's John Roberts, Ryan stated that he wants to be the best husband and dad he can be and will, therefore, spend at least two days a week in Janesville, Wisconsin to be with his wife and kids. However, while he wants that, which is no problem for a man who makes six figures annually and is worth millions, he told Roberts that he will not support an "unfunded entitlement" to ensure American workers get the same luxury that he feels entitled to.
Roberts, to his credit, pushed Ryan on the apparent contradiction in his own personal demands and his feelings on how American workers should be treated. Ryan tried to turn that hypocrisy around and make it a quality, claiming that he is not going to take money from "hardworking Americans" and that he is letting his constituents know that he will spend more time with them in Wisconsin.
It should be noted that over the past three months, Ryan has worked a TOTAL of 26 days in Washington. Of course, he's been paid right on time and hasn't been docked anything for the amount of time he's spent with his family at home.
Poor Paul Ryan, who has had to work a total of 26 days the past 3 months. #Workaholic pic.twitter.com/qCOoBvhvJ8

— Parker Molloy (@ParkerMolloy) November 1, 2015
Meanwhile, the Democratic National Committee is putting the screws to the new Speaker over his stance on paid family leave. The DNC has held events in Ryan's home state hammering him for not supporting Obama's bill while demanding he get to spend more time at home. They've also organized supporters in the early-voting states in the runup to next year's general election.
Below is video of Ryan's appearance, courtesy of Raw Story: