Chris Christie, While Whining About CNBC Debate, Says Republicans Need To Stop Complaining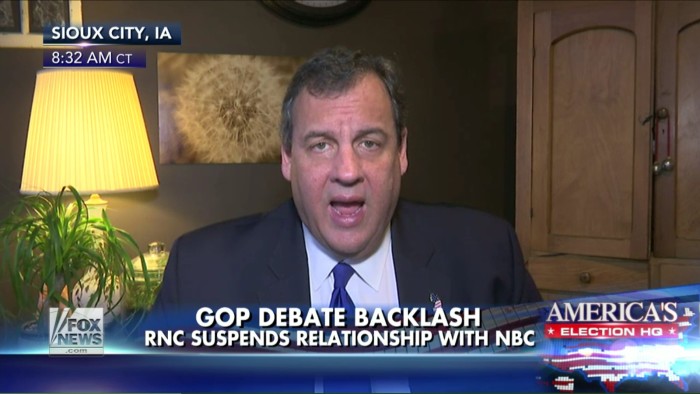 In a perfect example of a politician lacking all self-awareness, unpopular New Jersey Governor and bottom-scraping GOP Presidential candidate Chris Christie appeared on Saturday's Fox & Friends and said his Republican rivals need to stop complaining about biased debates and unfair moderators. Of course, Christie made sure to take swipes at CNBC for the disastrous debate earlier this week and highlighted just how awful the questions were. Furthermore, the guv joined on the media-hate bandwagon during the debate when he took a shot at moderator John Harwood over a question regarding fantasy football.
Speaking to smug 46-year-old frat boy Tucker Carlson, the White House hopeful openly criticized the other Republican candidates for wanting to take control of the remaining primary debates from the RNC and handpick sympathetic pundits to moderate them. Obviously taking cues from liberals ridiculing the babyish tactics from the GOP since the debate, Christie stated that "if you're running for President of the United States and you can't handle yourself against three CNBC moderators without, you know, crying foul and calling for intervention, then you're not gonna do very well against Vladimir Putin either."
At the same time, while having whined during the debate and in his Fox interview about the most recent debate, the low-polling Republican said that he wasn't going to join in the complaints about the debates because anyone who can't deal with tough questions has "no business running for President." Again, this coming from a man who has done nothing but piss and moan about the media, the debates and liberals being unfair to him. But, you know, he's a straight-shooter, and he's tellin' it like it is, man!
Anyway, it appears that the Republican candidates are going to try to push forward with making the remaining debates be a pandering lovefest where they all try to prove who is the most conservative government-hatin' asshole who will take our country back! In an effort to try to prove to the butthurt babies that they are on their side, the RNC took NBC's February GOP debate away from the network as punishment for CNBC's performance. Telemundo, a subsidiary of NBC, was also going to air the debate. This was to be the only Republican debate to be aired on Spanish-language TV. Therefore, the GOP is willing to shoot itself in the foot with Latino voters. Again.
Below is video of the interview, courtesy of Fox News: