Mark The Date! Chuck Todd's New MSNBC Weekday Show Debuts On September 28th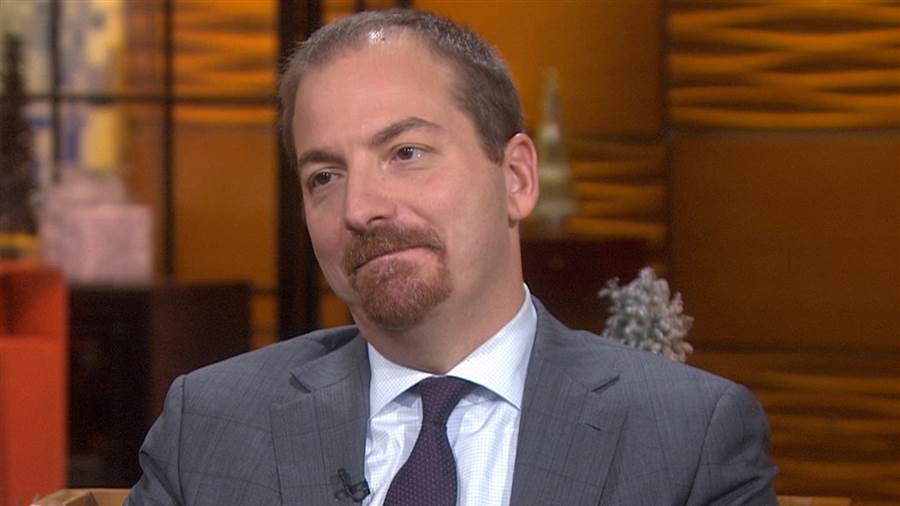 On Thursday, MSNBC president Phil Griffin formally announced the start date of Meet the Press host Chuck Todd's new MSNBC program. It had already been reported numerous times over the past months that Todd was heading back to the cable news network to headline a one-hour program that was similar to The Daily Rundown, the morning MSNBC program he hosted prior to taking over the MTP chair. However, an actual debut date had not been confirmed until now.
Todd's daily broadcast will begin on September 28th and will take up the 5 PM ET slot. Prior to Chuck's arrival, former NBC Nightly News anchor Brian Williams will start his tenure at MSNBC as a breaking news reporter while Kate Snow will take over the 3 PM to 5 PM block. Snow will also be the Sunday night anchor for NBC Nightly News.
Below is an excerpt from Griffin's internal memo that NBC published on Thursday:
Starting next week, we'll welcome two new anchors to our afternoon lineup, as we draw on our best breaking news talent from across MSNBC and NBC News.
I'm happy to share the good news that Kate Snow will join our anchor team and be in the chair from 3:00pm to 5:00pm each day. Please join me in welcoming Kate to our dayside lineup, and also congratulating her on another new role – as announced earlier today, Kate is now the anchor of the Sunday edition of NBC Nightly News.
Also, as you know, Brian Williams will be leading our live, breaking news coverage – helping viewers navigate big moments. He will begin on Tuesday with the arrival of Pope Francis.
Then, on Monday, September 28, Chuck Todd's new show will debut at 5pm. MTP Daily will bring the insight and power of Meet the Press to our air every day of the week. We hope it will become the daily cable news show of record for the 2016 campaign.
Earlier this summer, MSNBC canceled three afternoon programs: NOW with Alex Wagner, The Cycle and The Ed Show. Prior to those shows getting the ax, the network pulled the plug on early-afternoon broadcasts hosted by Ronan Farrow and Joy Reid. A few weeks ago, PoliticsNation was shuffled off to an early Sunday morning slot, leaving the 6 PM ET time spot open for now.
Essentially, Kate Snow is taking over for Alex Wagner and The Cycle while Todd gets Schultz's old spot. It is up in the air what will occur with Al Sharpton's vacancy, but inside sources claim that it will be filled with a panel discussion show. Also, outside of Morning Joe — which recently received an additional hour — Rachel Maddow and Chris Matthews, none of the other veteran shows should feel safe, specifically those hosted by Lawrence O'Donnell and Chris Hayes. (Andrea Mitchell and Tamron Hall should be OK as they are mostly covering news of the day rather than opinion, in line with MSNBC's new direction.)
So, how will MSNBC's core audience of progressives take to the return of Todd on a daily basis? Chuck is not a favorite among liberal viewers as they view him as sort of a puppet of Beltway establishment and specifically the GOP. Will libs and progs be even more upset that he is taking over for working class hero Ed Schultz? Probably. Will these moves help the cable network's ratings and reputation as a news source? Eh, who knows.
Image via NBC