Isn't It Ironic? Joe Scarborough Criticizes CNN For Being Obsessed With Donald Trump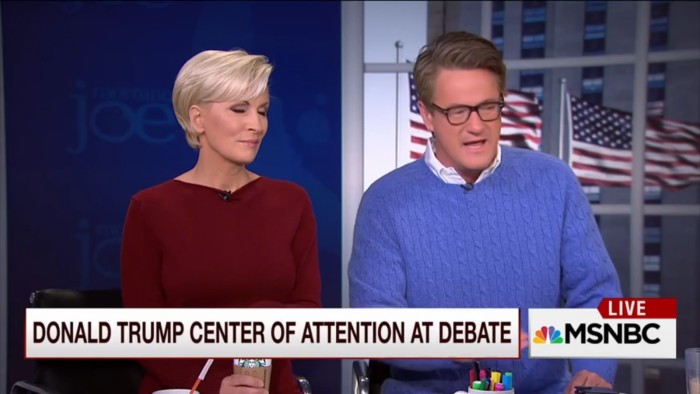 Since the rise of Donald Trump as a viable Republican Presidential candidate, one program that has continuously had his back and provided him with hours upon hours of free airtime has been MSNBC's Morning Joe. Over the past three months, Trump has called in or appeared on the show dozens of times. On days he hasn't been available to speak to hosts Joe Scarborough and Mika Brzezinski, much of the show's time has been focused on discussions revolving around the celebrity billionaire.
Therefore, it was pretty fucking hilarious to see Scarborough chastise rival network CNN for making the second GOP primary debate of the election season all about Trump. The former Republican Congressman and loyal Trump sycophant went off on one of his trademarked self-righteous rants regarding Wednesday night's debate, whining that the network is obviously obsessed with the former reality TV star and spent too much time focusing on the GOP frontrunner.
Now, don't get me wrong, Joe has a point. He accurately noted that the debate was essentially three hours of either asking The Donald questions or seeing what the other candidates thought about Trump. Joe also validly highlighted that some candidates, such as Mike Huckabee, went long periods of time without even fielding a question or getting a chance to speak. It was extremely transparent that CNN was trying to create Must-Watch TV by trying to get either Trump or one of the other candidates to say something outrageous.
While Scarborough made a somewhat cogent if blustery argument about CNN's awful staging of the debate, he really has no goddamned room to talk. The fact is that Morning Joe has been Trump Campaign Headquarters all summer and Joe and Mika have been the short-fingered vulgarian's biggest cheerleaders in the media. How can you say with a straight-face that another network is "being full-on obsessed" with Trump when you can't go 20 minutes without talking about him yourself?
As if to prove his own obtuseness, who was Joe's first big guest of the morning? You guessed it, Donald Trump. Man, fuck you guys, seriously. Your show really is the worst on cable news.
Below is video of Joe's rant against CNN, courtesy of MSNBC: