Bill O'Reilly: I'll Call Caitlyn Jenner A "He" Because Jenner's A Male "From The Waist Down"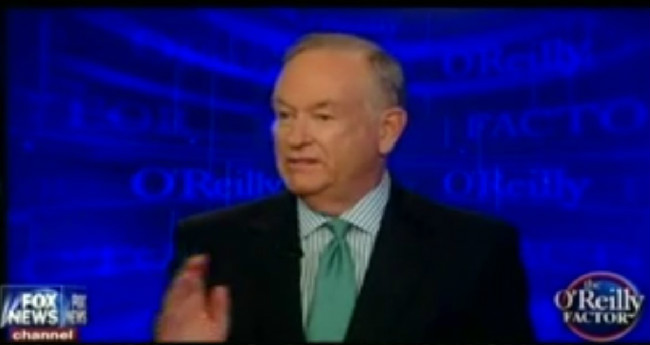 Whenever you are looking for a reasoned, intelligent and well-researched discussion on transgender issues, there is no better place to go than Fox News' The O'Reilly Factor, especially when expert on all cultures Bill O'Reilly has a couple of other straight white male conservatives on to flesh out the topic. During Tuesday night's broadcast, O'Reilly and his guests Greg Gutfeld and Don Imus producer Bernard McGuirk sensitively tackled the subject of gender identification in schools. Of course, sensitively in this case means acting like proudly transphobic assholes lacking even the slightest bit of empathy.
O'Reilly brought up a story about the University of California now allowing for six gender identifications on college admissions forms. This segued into Bill playing a clip of a woman stating that news outlets really should be fined if they purposely call a transgender person by the incorrect sex. O'Reilly scoffed at this idea as did the other dudes on his panel.
Regarding the use of the proper pronouns when discussing transgender people, O'Reilly used Caitlyn Jenner as an example. According to Bill-O, he is absolutely correct to call Jenner a male because "from the waist down, he is a he, according to she." O'Reilly then stated he is just "trying to accurate" when discussing these types of things.
From there, you just had three dickheads mocking the idea of gender identities while insensitively dismissing the notion that a person could actually transition to another sex during their life. Gutfeld did what he does best, which is make extremely unfunny jokes because, ya know, he's a 'comedian'. In the end, they all agreed that it is just about special interest groups wanting open bathrooms and showers, or something like that. I don't know, I just mostly heard them go "oooo, iccckkkk" throughout the conversation. (One telling moment was when O'Reilly was going through the gender identifications at U of C and then had the all raise their hands as 'male'…maybe the lack of un-male opinion should tell you something about the validity of your discussion, Bill.)
Anyway, Bill O'Reilly's a transphobic creep who likes to book guest who help with his confirmation bias. What else is new?
Below is video of the segment, courtesy of Media Matters: