ABC's Martha Raddatz Rolls Her Eyes As Trump Claims He's The Only One Who Cares About Vets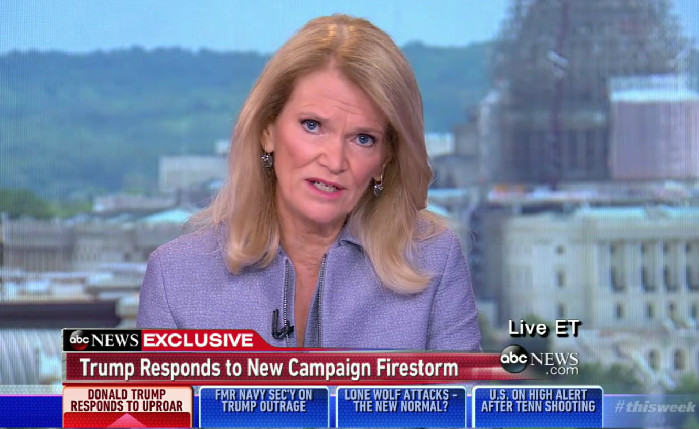 Finally, Republican candidates and pundits no longer have any fear of Donald Trump and his bombastic rhetoric as he stepped in it completely on Saturday. While many GOP voters and right-wing media personalities have fallen in love with The Donald for his blatantly racist and xenophobic comments about Mexicans and his tendency to personally insult everyone who criticizes him, the tables turned when he insulted the service of an acknowledged war hero who spent nearly six years as a prisoner of war. It especially isn't helpful that Donald Trump avoided the Vietnam War altogether by getting student and medical deferments.
On Sunday, the boorish reality TV star gave his first interview since besmirching Sen. John McCain (R-AZ) when he appeared via phone on ABC's This Week. Guest host Martha Raddatz pulled no punches in her conversation with the real estate mogul as she pressed him on his comments about McCain. Raddatz was able to confirm that Trump will not apologize for his remarks or pull out of the presidential race as Trump claimed that he had nothing to apologize for because a sympathetic journalist — Sharyl Attkissson, late of CBS News and a conservative darling — defended his remarks about McCain.
At one point, after Raddatz had read off McCain's war record and criticism from various veterans groups, Trump made the claim that when he said he preferred soldiers who hadn't been captured, he was merely trying to give acknowledgement to veterans who aren't POWs because "they don't get credit." Raddatz literally rolled her eyes at that remark, and she responded to Trump by simply stating, "I do think people talk about those people as well." Of course, the walking hairpiece stood by his comments and reiterated that McCain has gotten his credit since he was elected Senator and all that.
RADDATZ: Let me talk about your language about him being captured.
You say you prefer those who aren't captured.
What could John McCain have done not to be captured?
TRUMP: Well, I do say this. People that fought hard and weren't captured and went through a lot, they get no credit. Nobody even talks about them. They're like forgotten. And I think that's a shame, if you want to know the truth.
People that were not captured that went in and fought, nobody talks about them. Those are heroes also.
RADDATZ: I think people do talk about those people as well.
But what did you mean —
TRUMP: I don't think so.
RADDATZ: — what did you mean you — what did you mean you prefer those who aren't captured?
TRUMP: I want to give them credit because, frankly, they don't get the credit. John McCain gets credit. He was elected a senator, et cetera, et cetera, and we'll give him all the credit. And as in the report, it said, from Sharyl Attkisson, four times, I said he is a hero. But you know, people choose little selective like you try to do. People choose little selective pieces. If you read what I say or if you watch what I say, which is even better, you'll say that there was nothing wrong. But the people that weren't captured are also heroes, Martha.
Other highlights of the interview included Raddatz bringing up Trump's multiple draft deferments in the 1960s, his thin-skinnedness when it comes to criticism and his habit of personally insulting others and Trump insisting that this will help him with vets and GOP voters, just like his 'Mexicans are rapists' comments will win him the Latino vote. Regarding his tendency to resort to personal insults at the drop of a hat, Raddatz asked him if he thought that language was beneath the office of the president. Trump's response was essentially that of a petulant child as he wondered why Raddatz never comes to his defense.
Fun time with Donald is now over when it comes to Republicans. While many on the right had pointed out multiple times that Trump either needed to be reined in or tossed to the side, not to be taken seriously, the voices of the Conservative Entertainment Complex jumped on the Trump bandwagon because they finally had a candidate who would say outrageously bigoted things. Of course, Frankenstein's monster isn't going to be told what to do, and he finally turned on his creator. Now GOP leadership has to do whatever it takes to destroy him, and they want to do it ASAP, before Trump has a chance to do even more damage.
Below is video of the interview, courtesy of ABC News: