Oregon Man Charged For Making Threats To YouTube Employees Promoted QAnon, Other Conspiracy Theories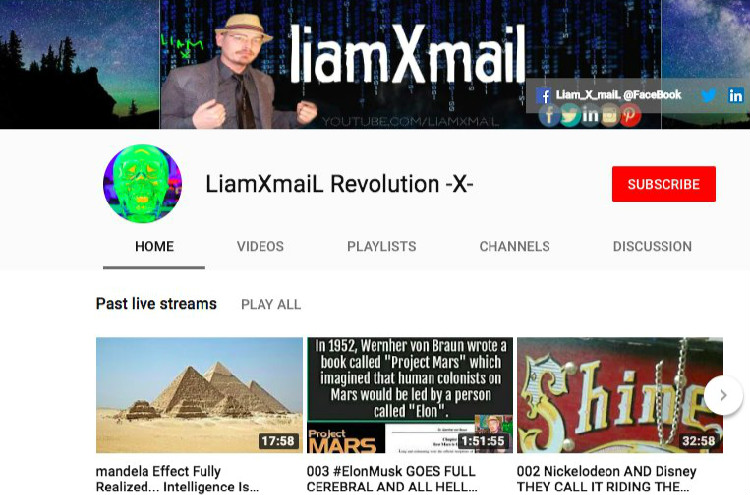 An Oregon man arrested on charges of threatening YouTube employees promoted QAnon and other conspiracy theories on his YouTube channel.
William Gregory Douglas, 35, allegedly posted a series of tweets threatening to shoot YouTube employees in response to restrictions being placed on his YouTube channel, according to the FBI criminal complaint filed in this case. The indictment states that these tweets included language such as, "I would kill the 100 YouTube employees," "you want a bigger mass casualty aka shooting let's see what I can do," and "return my channel you low life Sholes before someone else comes and shoots more of your employees."
In a message directed to YouTube CEO Susan Wojcicki, Douglas allegedly said: "Susan, I'm coming for you today, #pray."
FBI agents arrested Douglas, who goes by the handle LiamXmaiLRevolutionX, outside a convenience store in Cave Junction, Oregon on Thursday, September 20, 2018, without incident.
Douglas' Youtube channel includes videos promoting a variety of conspiracy theories, including theories about mass murderer James Holmes, Pizzagate, and QAnon.
On February 12, 2018, Douglas posted a video about a "Q drop," or message posted by the anonymous 8chan poster known as "Q." While Douglas was recording the screen of his device to make the video, it connected to a Wi-Fi network named "#investigatepizzagate."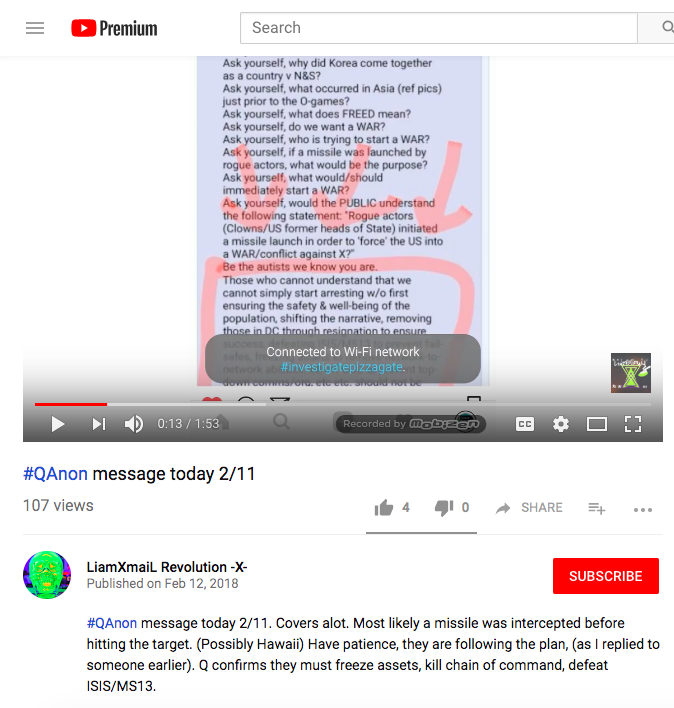 The description of the video advocates the baseless conspiracy theory that the false ballistic missile alert issued in Hawaii on January 13 via the Emergency Alert System was actually issued in response to an intercepted missile. The description reads, "#QAnon message today 2/11. Covers alot. Most likely a missile was intercepted before hitting the target. (Possibly Hawaii) Have patience, they are following the plan, (as I replied to someone earlier). Q confirms they must freeze assets, kill chain of command, defeat ISIS/MS13."
On November 23, 2017, Douglas posted a Youtube video titled "Fiji Trump ++Qanon." The video promoted the baseless theory that President Trump's decision to drink Fiji Water during a press conference was actually a secret signal about human trafficking in Fiji. This theory is popular with people in the QAnon community, who often attempt to find what they believe is hidden meaning in trivial details.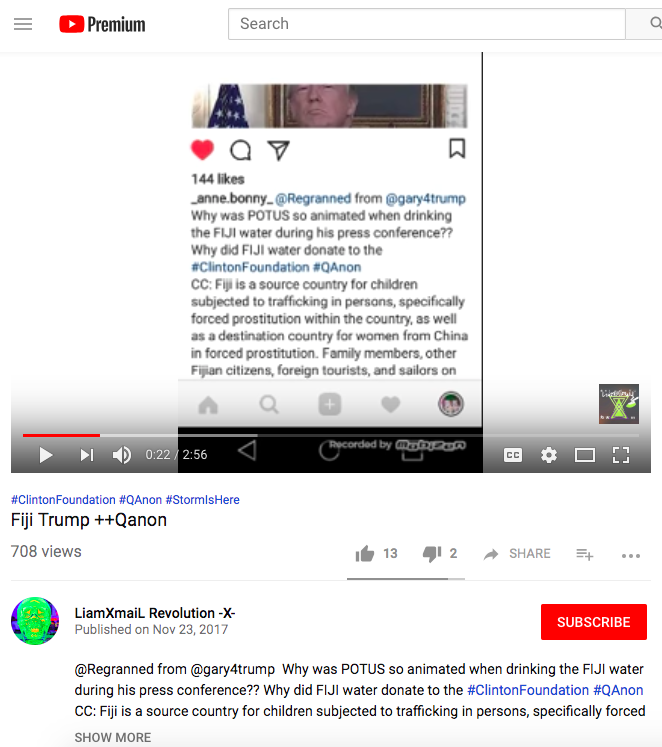 Douglas faces criminal charges of cyberstalking and transmission of threats in interstate commerce to injure another. He is tentatively scheduled to make his initial appearance before a federal magistrate judge tomorrow, on September 24.
In a previous incident in April of this year, YouTube employees were wounded by another disgruntled YouTube content creator. 38-year-old Nasim Najafi Aghdam wounded three YouTube employees at San Bruno, California headquarters before taking her own life.