Why Apple's New MacBook Pro Is A Self-Inflicted Disaster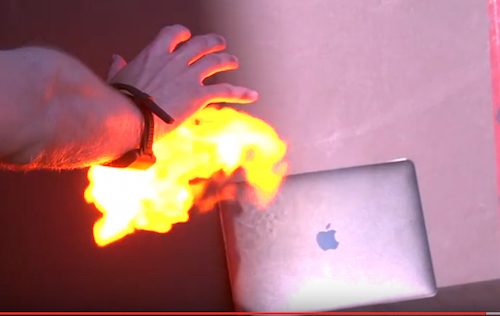 Giants do fall. And Apple just stepped off a cliff with the release of its new 2016 MacBook Pro. In yet another move toward turning the Cupertino tech giant into a phone and fashion accessories company, Apple's latest laptop hits the mark. The impossibly thin, new MacBook Pro has been stripped of everything that made it a Silicon Valley icon worthy of envy.
No longer sporting a MagSafe charging port, USB 3.0 legacy ports, an SD Card slot, or HDMI, it's hard to consider this Mac a 'Pro' device anymore. But don't worry, it still has a headphone jack. And either 2 or 4 USB-C type ports, depending on how wide you want to open your wallet.
With it's I/O neutering, 2016 MacBook Pro buyers must now live in adapter and Dongle Hell if they want to connect most current generation peripherals. That makes using your new Mac considerably more inconvenient, and adds to the cost of a laptop that has a new starting price of $1499 and $1799 for the 13-inch models, and $2399 for the new 15-inch base model.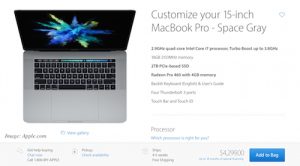 If you dare to upgrade to a maxed-out version of the 15-inch 2016 MacBook Pro with the fancy new Touch Bar, it will cost you $4299, not including dongles, adapters, or the power cord extension that used to be in the box, but is now a $19 accessory.
Sadly, no matter how much you spend you can't buy a new Macbook Pro with a glowing Apple logo on the lid. It has been replaced by an embossed shiny Apple logo instead.
Revolt among the iSheep has been palpable, with many in forums either threatening to defect to Microsoft or Linux, or spending way too much time singing the praises of the new Dell XPS. Others are blaming CEO Tim Cook for implying that thinness is more important than functional, user-friendly products.
Apple is not completely unaware of the self-inflicted disaster their 'vision' for the future that their 'pro' machine has wrought. The Apple refurbished store shows older models being snapped-up with blazing speed, while pre-order sales on new models have been disappointing enough for Apple to hint at upcoming changes to prices and spec's. All this, just 5 days after the keynote. Interesting.
As MacRumors reports:
KGI Securities analyst Ming-Chi Kuo has released a new research report outlining why he's upbeat about MacBook growth in 2017. Kuo expects price cuts for both new and existing MacBooks in 2017 coupled with a refresh that adds support for 32GB RAM and more, bolstering his belief in the MacBook line next year.
By next year, it may too too little, too late, for the loyal professional creatives that built Apple Inc., long before the invention of the iPhone. 'Pro' users are simply not willing to pay top-dollar for laptops that abandon the idea of "It just works," even if the 'DongleBook Pro' now comes in Space Grey.
https://www.youtube.com/watch?v=GRRKYPtsxVk
*** Maryann Tobin is the author of "Afterlife: The Journey Of A Dog's Spirit"  This heartwarming story is told through the eyes of an animal spirit that has been sent back to earth in the body of a small dog. His mission is to help a young woman discover that their destinies are more connected to the powers of the Spirit World than either of them ever imagined. If you've ever shared your life with a dog or any other pet, you will never look at them the same way again after reading this book. Afterlife: The Journey of a Dog's Spirit is available now on Amazon.com.