Filipino President Who Called Obama 'Son Of A Whore' Is A Human Rights Thug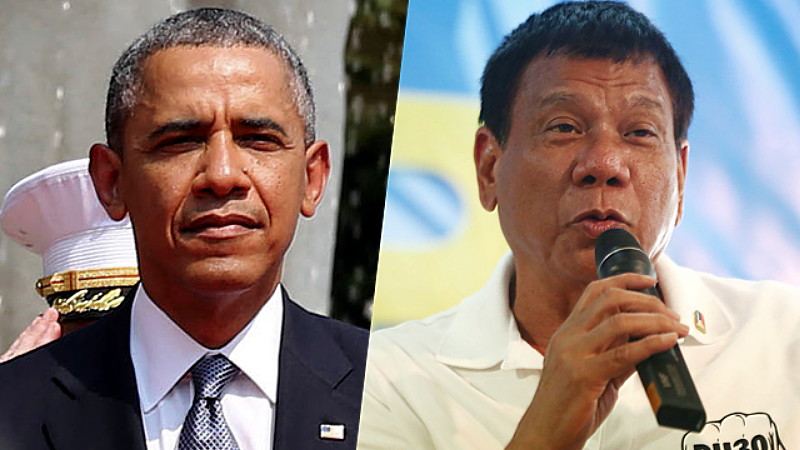 While everyone is fixated on Philippine President Rodrigo Duterte's insult to US President Barack Obama by calling him the "son of a whore," fewer people are looking at the human rights atrocities that Obama was hoping to address regarding the killing of suspected drug users, drug runners and their families without due process.
Upon learning that Obama intended to bring up the drug subject in the meeting planned for Monday, Duterte issued his insult, while lashing out at the idea of his authority being questioned.
Duterte's warning to Obama: "I am a president of a sovereign state and we have long ceased to be a colony. I do not have any master except the Filipino people, nobody but nobody. You must be respectful. Do not just throw questions. Putang ina (son of a whore) or I will swear at you in that forum."
Duterte, who served as mayor of Davao City for 22 years, was elected president early in 2016 and has served only two months in that position.  He carries with him the reputation of being a foul-mouthed hardliner and a brutal kingpin.
According to a report in the Washington Post, Duterte ran on a campaign promise to topple the drug trafficking alliance in his country and over 2,400 people suspected of drug involvement have been killed, including innocent children.
Sadly, that wasn't the headline, because the insult to the United States president holds meatier appeal than the execution of people without any arrests, trials or due process.
During a later news conference in China, Obama said he was still interested in meeting with Duterte if he feels confident it can actually be productive and "we're getting something done."
"We recognize the significant burden that the drug trade plays not just in the Philippines but around the world, and fighting narco-trafficking is tough. But we will always assert the need to have due process and to engage in that fight against drugs in a way that's consistent with basic international norms. And so, undoubtedly, if and when we have a meeting this is something that is going to be brought up," said Obama, who was in the region to attend the Group of 20 nations.
Meanwhile, Duterte, who has cussed out the pope and the United Nations chairman, issued a tepid apology on Tuesday, but didn't soften his tone on the extrajudicial killings.
Emily Rauhala, the Post's China Correspondent stated his position best in her report:
"Duterte is not particularly interested in talking about human rights — he has said as much. Now, because he cursed out Obama's mother, he doesn't have to; instead of apologizing for overseeing executions, he can say sorry for his dirty mouth."
Brutal ruffians, foul-mouthed or not, who use their presidential authority to oppress and kill people with the broad stroke of an executioner's brush, guilty or innocent, should always be challenged by civilized nations—especially by the United States of America.
Featured image courtesy of Al Manar TV