Penn State To Honor Joe Paterno, A Guy Who Facilitated Child Rape For Decades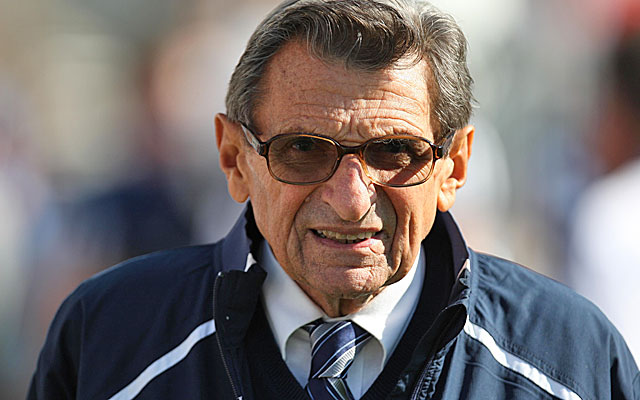 News broke on Thursday afternoon that a university decided to commemorate the 50th anniversary of a well-known and now deceased employee's first day of work. The honoring of said employee will take place prior to a football game on September 17th and it was quietly announced on the team's promotion page. Soon, social media went wild with outrage. Why?
Well, it is because Penn State wants to honor late coaching legend Joe Paterno. The same guy who helped cover up all the child-raping that was going on for decades by his assistant coach Jerry Sandusky. The same dude who allowed Sandusky to roam the campus and bring boys into the shower room even after Sandusky retired in 1999. The same one who got fired after 46 years as head coach for allowing that shit to happen. And the same one who apparently knew this was going on as far back as 1976.
So, yeah, it isn't difficult to see why people are furious.
Now, considering court documents that were unsealed earlier this summer revealed that Paterno and the university were aware of Sandusky's predilection for fucking underage boys and destroying their lives as far back as the mid-70s, you'd think that Penn State would maybe rule against honoring JoePa. But, nope. Because, let's face it, there are a bunch of Penn State alum and State College residents who still think Paterno got a raw deal when he was forced out in late 2011.
Anyway, people took to Twitter to give their opinions of this event. It was what you'd expect.
Joe Paterno was a disgusting human being. @penn_state is no better for honoring him.

— (((Political Nerd))) (@Sttbs73) September 1, 2016
*sees Joe Paterno trending*

*sees why Paterno is trending* pic.twitter.com/i5qDGXLjza

— Airedmania (@airedmania) September 1, 2016
If Penn St. is honoring Joe Paterno, Subway might as well bring back Jared Fogle commercials.#Ridiculous pic.twitter.com/L4fPzsKMM8

— Denzel Moore (@VIBEZ_419) September 1, 2016
Bet there's a sizeable overlap in people mad at Kaepernick and people who can't wait to give Paterno an ovation https://t.co/0kC2bMdFzd

— Eric Smith (@SomeEricSmith) September 1, 2016
Meanwhile, a spokesman for the university said the actual plans for the commemoration wouldn't be revealed until the week of the game. He then declined to comment on anything else.
Imagine that.
Image via USA Today