Sam Bee Gets All The Likes With Her Response To Trump's Cynical Hispanic Pandering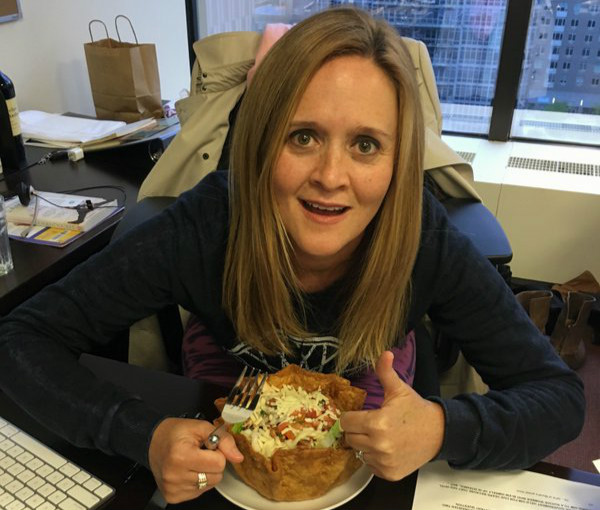 Well, by now, you've likely already seen the dumbass "I Love Hispanics!" tweet that Republican standard bearer Donald J. Trump sent out on Cinco de Mayo. Since the sentient Diaper Genie secured the GOP nomination this week, he's decided that he needs to start pivoting to the general election. And what better way than eating a taco salad in his office while tossing out a thumbs up. Surely, that will get Hispanics to forget how he made them Angry White America's perfect scapegoat.
Happy #CincoDeMayo! The best taco bowls are made in Trump Tower Grill. I love Hispanics! https://t.co/ufoTeQd8yA pic.twitter.com/k01Mc6CuDI

— Donald J. Trump (@realDonaldTrump) May 5, 2016
(Is that a picture of Trump's ex-wife Marla Maples in a bikini under his taco bowl? Why yes, yes it is!)
Anyway, El Trumpo's cynical and inauthentic pandering was immediately ridiculed by nearly all of Twitter, with news outlets joining in the fun. (Except for Fox News because of course.) But the best response of all came from Full Frontal host and former Daily Show correspondent Sam Bee.
The best taco bowls are made by immigrants who resent a rich prick calling them rapists. Love inauthentic Mexican! pic.twitter.com/9tEORJxoZp

— Full Frontal (@FullFrontalSamB) May 5, 2016
So good, so on point, so vicious. Sam Bee, you get all the likes today. Every single one of them.