Mediaite Baselessly Claims Tarantino's "Anti-Cop Rhetoric" Is Hurting Film's Box Office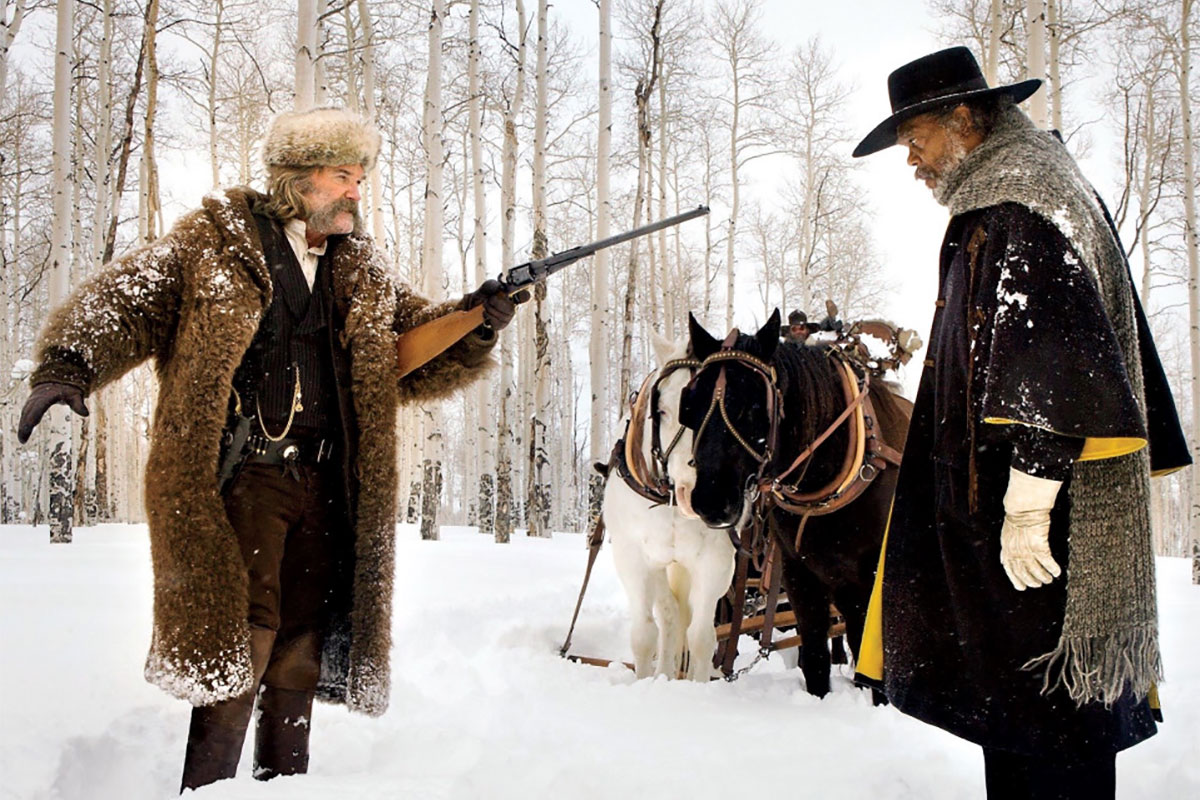 Hey, remember that time a couple of months ago when some police unions got all pissed off over director Quentin Tarantino appearing at a Black Lives Matter march and saying cops that murdered people are indeed "murderers"? Also, remember how right-wing media jumped all over that story, pushing the narrative that Tarantino was advocating for the murder of cops, going so far as to bring on his estranged father to hype the story? Finally, remember how the proposed police boycott of Tarantino's The Hateful Eight never actually materialized?
Well, likely due to the fact that he desperately needed some material for a Mediaite column on Tuesday, media columnist Joe Concha devoted a piece on the box office performance of the film, claiming Tarantino's "anti-cop rhetoric" had come home to roost and was haunting the film. The move, in its first week of wide release this past weekend, pulled in $16.2 million in North America, placing third to the unstoppable force that is Star Wars and the Will Ferrell comedy Daddy's Home.
While Concha accurately notes that the movie's weekend take is behind those of recent Tarantino films like Inglorious Basterds, Django Unchained and the Kill Bill series, he also decides to gloss over any legit reasons why that may be the case in order to push his predetermined narrative. Sure, he gives lip service to the fact that the movie is going up against The Force Awakens, but he dismisses that due to the higher grosses of Daddy's Home. After that, he goes all in on his theory.
The columnist, who also serves as a host on far-right Newsmax TV, pilloried Tarantino for participating in a BLM protest because the demonstration happened shortly after a New York City police officer was killed. He then finishes the column with this little gem:
Well, there's another truth out now: Quentin Tarantino's newest offering will be his worst-performing in nearly two decades despite having the biggest box office generator ever starring in it (yup, a great trivia question to ask: Who is highest-grossing actor in history? Answer: Samuel L. Jackson).
Poor timing on the release? Yes, but only to a point.
A backlash — even a boycott — against the director from those who don't like to hear about cops being labeled "murderers" in the same city that just buried one a day earlier?
A much more likely reason…
OK, let's get a few things straight here. One, comparing the audience reach of a silly Ferrell comedy with that of a three-plus hour R-rated Western is just plain stupid. Two, the reviews for the film have been good, but not great, which is another reason why it is performing (slightly) below expectations. Three, the right-wing news consuming community that would be overly outraged about Tarantino's comments are likely a very minuscule percentage of the film-going public that would go out and see a QT film. Four, there are a number of other high-end 'award' films vying for attention, such as The Big Short, Joy and Carol.
Beyond that, there are other legitimate things that can be pointed to for the to-date take of this film. The Hateful Eight, like Tarantino's Grindhouse collaboration with Richard Rodriguez, is a tough sell to moviegoers. (Grindhouse opened to only $11.2 million in April 2007, more than 50% that what was predicted.) Also, screeners were leaked by pirates weeks before the film opened, eating into the audience that would rush out to see the film. Finally, there are some fans that only want to see the roadshow version of the film in 7omm, possibly preferring to wait until it comes to a theater near them than seeing it in a normal format.
The thing is, we can speculate all we want about why the film is underperforming, if it actually even is. ($29.5 million since Christmas Day isn't bad for an extremely violent historical art film with no huge stars. Sorry, Kurt Russell and Sam Jackson.) But pointing to politically charged comments from a normally outspoken celebrity without any basis is just cynically crass, as it is more than apparent you are just trying to provoke to generate clicks.