Ammon Bundy: We'll Only Start Shooting If The Government Tries To Make Us Leave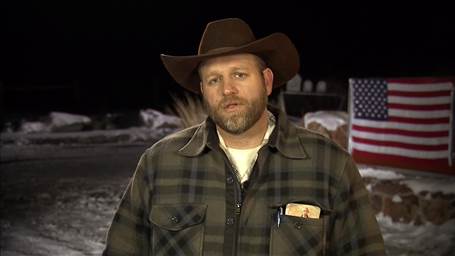 Entering Day 3 of the armed occupation of a federal wildlife refuge building, terrorist leader Ammon Bundy spoke to Natalie Morales of NBC's TODAY on Monday morning to discuss his plans moving forward. The son of deadbeat rancher and seditious dissident Cliven Bundy told Morales that the occupying force of Malheur National Wildlife Refuge would remain peaceful unless the government tried to force them out.
"The only violence that, if it comes our way, will be because government is wanting their building back," he told the TODAY host. "We're putting nobody in harm's way. We are not threatening anybody. We're 30 miles out of the closest town."
In a separate interview with the Associated Press, Ammon's brother Ryan, who is also at the compound, explained that the so-called militia would keep hold of the headquarters until the federal government agreed to turn over the refuge to local authorities. The intent is then for the local government to give the land over to ranchers and other citizens to use as they wish.
While this is supposedly part of a protest regarding two local ranchers going to prison over federal arson charges, it is apparent that Bundy and his group of merry ammosexuals had planned this for quite a while and are using this past weekend's demonstrations as an excuse. Now, they have the nation's attention and are trying to appeal to other 'patriots,' constitutional conservatives and libertarians to join their cause.
Many have criticized the media's response to the armed occupation, claiming it shows a double standard, especially when contrasted to the coverage of Black Lives Matter demonstrations over the past year-plus. While unarmed black demonstrators were called violent thugs and worse during protests in Ferguson, Baltimore and Chicago, a group of gun-toting white men who took over a federal building and are holding it by force are described as activists and protesters.
Beyond that, you also have the reaction from law enforcement to armed men seizing federal property compared to people demonstrating in the street. While hundreds of police officers, and sometimes National Guard troops, have been dispatched to disperse protests and arrest BLM demonstrators in Ferguson and other cities, the domestic terrorists in Oregon have yet to encounter one law enforcement officer. Per the FBI, they are looking for a "peaceful" resolution to the encounter.
I'm not sure if you can be given a clearer example of white privilege in this country than this. Of course, Ammon and Ryan learned from their daddy, who was able to unleash a bunch of armed to the teeth freedom fighters to engage with federal agents back in 2014 and never faced any real repercussions for his actions. Seeing that occur, it is no wonder that the Bundy boys felt they could take things even further, especially since they figure nothing will happen to them in the end.