Christian University President Tells Students To Get Guns So They Can "End Those Muslims"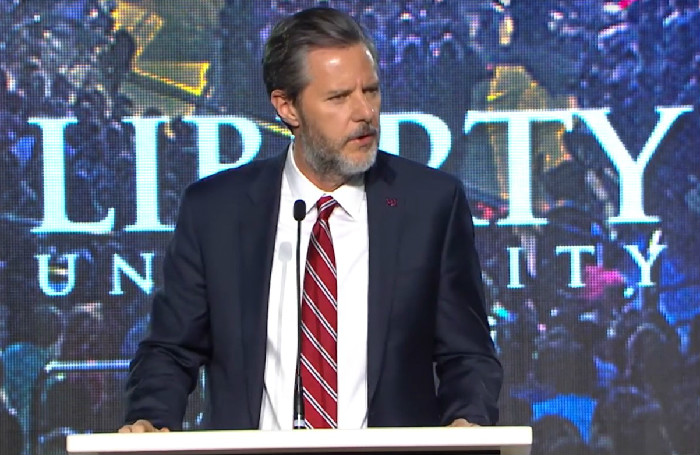 Welp, it looks like the calls for a holy war against Islam are getting louder and louder from the right with each passing day. During Liberty University's convocation on Friday, President Jerry Falwell, Jr., who inherited the mantle when his dad passed away, pressed the Christian university's students to go out and get more guns in order to "end those Muslims" before they can kill others. He also used his speech to criticize President Obama for pushing for tighter gun control measures in the wake of yet another mass shooting in this country.
Falwell's speech on Friday was required to be heard by every student on campus. Three times a week, students are forced to trek to the campus's sports arena and listen to a convocation. In this instance, the televangelist's son decided to preach Jesus's word, in that Jesus told his followers to go buy a gat, get a CCW and start targeting the non-believers.
From the Washington Post's article on the speech: 
"It just blows my mind that the president of the United States [says] that the answer to circumstances like that is more gun control," he said to applause.
"If some of those people in that community center had what I have in my back pocket right now…," he said while being interrupted by louder cheers and clapping. "Is it illegal to pull it out? I don't know," he said, chuckling.
"I've always thought that if more good people had concealed-carry permits, then we could end those Muslims before they walked in," he says, the rest of his sentence drowned out by loud applause while he said, "and killed them."
"I just wanted to take this opportunity to encourage all of you to get your permit. We offer a free course," he said. "Let's teach them a lesson if they ever show up here."
In speaking to the Post on Saturday, Falwell said that he wanted to clarify that when he was speaking about "those Muslims," he only meant the ones involved in the shootings in Paris and San Bernardino. He totally loves people of all faith and pointed out that Liberty has as many as 15 real actual Muslims on campus. That's like a whole basketball team's worth!
While his totally indoctrinated student body supported their President wholeheartedly, the reaction elsewhere wasn't quite so rosy. Virginia Governor Terry McAuliffe had the following to say about Falwell's speech:
"My administration is committed to making Virginia an open and welcoming Commonwealth, while also ensuring the safety of all of our citizens. Mr. Falwell's rash and repugnant comments detract from both of those crucial goals. Those of us in leadership positions, whether in government or education, must take care to remember the tremendous harm that can result from reckless words."
Expect more of this lunacy from the right over the coming days and weeks.