Nick Nolte Takes the Lead In 'A Walk in the Woods'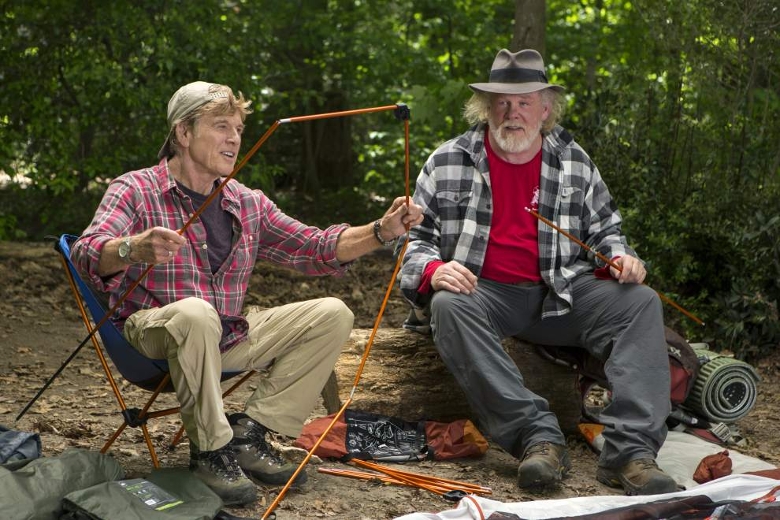 After seeing "A Walk in the Woods," a film based on Bill Bryson's book of the same name, the word that permeated my brain as I walked out of the theater was: lame. With two and a half stars on "Rotten Tomatoes," I guess I'm not alone. "A bit too pedestrian" is one comment. Yup.
Maybe it was the idea of Robert Redford…the way I remember him way back when…or the predictable crassness of Nick Nolte in his less-than-appealing physical persona, but I found it entirely implausible that Redford's character, Bill Bryson, would consent to having Nolte's character, Katz, join him on a 2000-mile walk across the Appalachian Trail from Georgia to Maine. Neither one was ready for a 10 mile walk, let alone Katz whose personal health regime seemed skid row endorsed. But the movie is supposed to be a comedy using contrasting characters who agree to take on one man's dream. Some dreams may be ill advisable, but why not try?
Redford seemed awkward in the film and a bit unengaged, sort of like, "These are my lines and I'll try to look and sound authentic." Plus, it just plain sucks to look at cinema heart throbs from the past get a jolt of reality. Nevertheless, as senior citizens go, he's still kinda hot…what with that little grin of his and a very decent looking bod.
Nolte, on the other hand, is far more believable as Katz. It's easy to see him and think, "Oh, my God…look at him! Is this how we age?? He's a wreck…disgusting. Ew!" Nolte's portrayal of Katz is authentic, vulnerable, and lonely, very much like some in the audience. He's the comedic element, but also the impetus that draws various emotional responses from the audience, from disgust to guffaw.
"A Walk in the Woods" isn't going to make a big splash in the world of cinema. It's not meant to. It's just sort of out there, a contrast to all the over-the-top, adrenaline soaked cinema that appeals to the masses. It was fun to see Nolte's performance, but in retrospect, I should have waited for "A Walk in the Woods" to join the Netflix line up.