Rock And Roll Icon Chrissie Hynde Alienates Female Fans After Blaming Women For Being Raped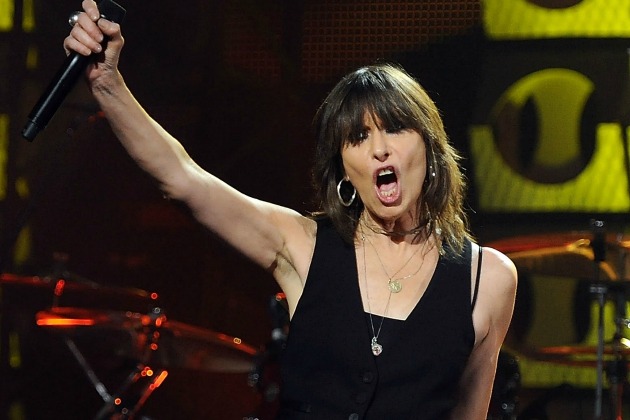 Rock and Roll Hall of Famer Chrissie Hynde is receiving intense criticism, especially from female fans and feminists, after she told Britain's The Sunday Times that women who don't dress modestly and/or are drunk have no one else to blame but themselves if they get raped. She recounted her own sexual assault at the age of 21 by a motorcycle gang and put all of the responsibility on herself as she says she was high on drugs at the time. In Hynde's opinion, women can't be "naive" when it comes to dealing with potentially dangerous men and need to realize it is possibly their fault when they put themselves in situations that lead to rape and sexual violence.
Hynde, who was inducted into the Rock and Roll Hall of Fame in 2005 with her group The Pretenders and is seen as a feminist icon, told interviewer Krissi Munson that it was "all her doing" that a gang forced her to perform sexual acts when she was younger.
"Technically speaking, however you want to look at it, this was all my doing and I take full responsibility. You can't fuck about with people, especially people who wear 'I Heart Rape' and 'On Your Knees' badges … those motorcycle gangs, that's what they do.
You can't paint yourself into a corner and then say whose brush is this? You have to take responsibility. I mean, I was naive."
After saying that you get burned if you "play with fire," Hynde then went on to say that women who wear high heels and dress provocatively are to blame if they are assaulted because they are "enticing" men and "putting it about."
"If I'm walking around in my underwear and I'm drunk? Who else's fault can it be? If I'm walking around and I'm very modestly dressed and I'm keeping to myself and someone attacks me, then I'd say that's his fault. But if I'm being very lairy and putting it about and being provocative, then you are enticing someone who's already unhinged – don't do that. Come on! That's just common sense. You know, if you don't want to entice a rapist, don't wear high heels so you can't run from him.
If you're wearing something that says 'Come and fuck me', you'd better be good on your feet … I don't think I'm saying anything controversial am I?"
Yeesh. As one would expect, quite a few people took offense to Hynde's comments and took to social media to express their objections.
And folk wonder why rape victims say nothing? Pretenders singer Chrissie Hynde criticised for rape victim comments http://t.co/5pmsQnAnGt

— Nicola (@RoyalToots) August 30, 2015
"I'll stand by you…unless, of course, you're going to dress like that." Chrissie Hynde.

— Colleen Doran (@ColleenDoran) August 30, 2015
The sad thing about the Chrissie Hynde comments are that men have been using that excuse for so long women end up believing it

— Liam Gill (@liamgrill) August 30, 2015
Chrissie Hynde says you should dress modestly or it's your fault if you're raped. Rape survivors respond. pic.twitter.com/lK1ZV6mfHX

— Jade Helm Commander (@Anomaly100) August 30, 2015
Chrissie Hynde is saying the same as: I had no choice but to rob this jewellers as they had all the lovely shinies out on show in the window

— Cara Sutra (@TheCaraSutra) August 30, 2015
Oh dear. Chrissie Hynde. I can't bear to imagine the trauma that informs those comments 🙁

— Sunny Singh (@sunnysingh_nw3) August 30, 2015
Chrissie Hynde's comments just make me feel incredibly sad for the young woman she was, who even she can't hear.

— Alison Croggon (@alisoncroggon) August 30, 2015
Many people seem furious with Chrissie Hynde, and I get why, but I feel pity for her. Imagine blaming y/self for sthg so awful for so long.

— Hadley Freeman (@HadleyFreeman) August 30, 2015
CW: rape: Chrissie Hynde's comments are awful, but they're a very sad reflection on how deeply rape culture & patriarchy has cut survivors

— ✿ Michelle✿ (@ThatMichelleWan) August 30, 2015
As of publication, Hynde hasn't responded to the criticism over her remarks.
Image via Ultimate Classic Rock