In Response To Ashley Madison Hack, Josh Duggar Blames Satan For His Addiction To Porn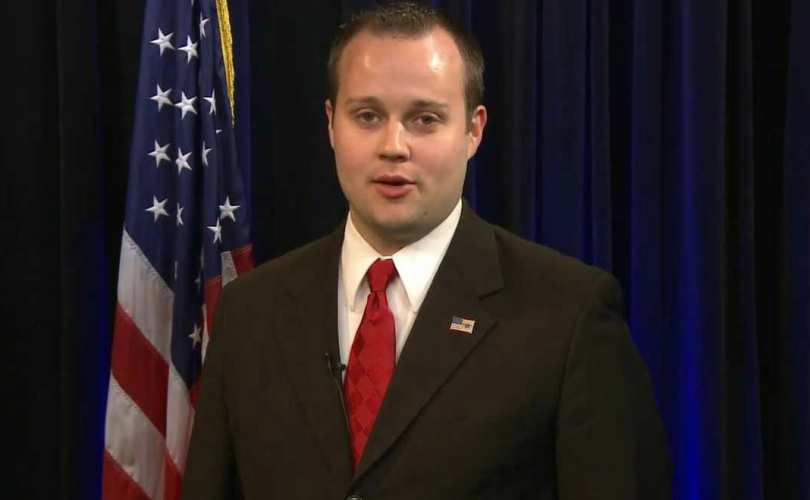 It has not been a good past few months for serial child molester and 'family values' advocate Josh Duggar. Earlier this year, the eldest son of the extreme Christian cultists cum reality TV stars admitted to sexually molesting young family members while he was a teenager. The news of his pedophilia resulted in TLC canceling the long-running Duggar series. Josh also lost his lobbying job with far-right religious hate group Family Research Council.
This week, it was revealed that the first well-known person outed in the expansive hack of cheating website Ashley Madison was none other than our good ol' hypocritical friend Josh. The entirety of the internet shared a collective laugh at Duggar's expense as it just seemed way too perfect that the preacher of family tradition and adherent of the Quiverfull lifestyle was two-timing on his wife.
After social media had its fun, Duggar took to his family's website on Wednesday to explain himself. In the statement, Josh said that he has an addiction to pornography, labeled himself a hypocrite and blamed Satan for building a fortress around him.
Below is his full statement:
I have been the biggest hypocrite ever. While espousing faith and family values, I have secretly over the last several years been viewing pornography on the internet and this became a secret addiction and I became unfaithful to my wife.
I am so ashamed of the double life that I have been living and am grieved for the hurt, pain and disgrace my sin has caused my wife and family, and most of all Jesus and all those who profess faith in Him.
I brought hurt and a reproach to my family, close friends and the fans of our show with my actions that happened when I was 14-15 years old, and now I have re-broken their trust.
The last few years, while publicly stating I was fighting against immorality in our country, in my heart I had allowed Satan to build a fortress that no one knew about.
As I am learning the hard way, we have the freedom to choose to our actions, but we do not get to choose our consequences. I deeply regret all hurt I have caused so many by being such a bad example.
I humbly ask for your forgiveness. Please pray for my precious wife Anna and our family during this time.
Josh Duggar
Damn you, Satan. Damn you for making me cheat on my wife, touch little girls and peruse the internet looking for spank material. Damn you!
ETA: It appears that the Duggar family has removed the original statement that was posted to their website. Prior to removal, the statement was edited multiple times. This article includes the original text of Josh Duggar's statement.