Professional Troll Ann Coulter Tries (And Fails) To Defend Her Nikki Haley Immigrant Comment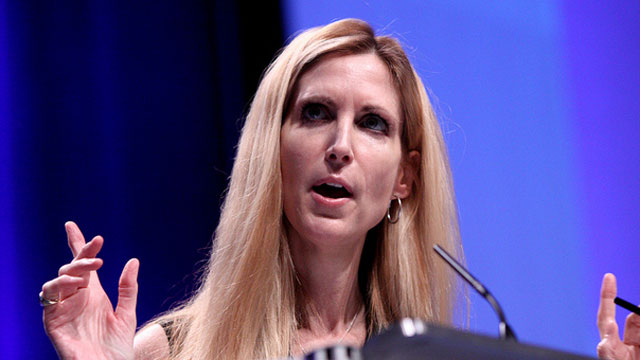 By now, we all know that accomplished black cocktail dress wearer Ann Coulter is nothing more than a professional troll whose mission in life is to make extremely outlandish statements and generally get under the skin of liberals and Democrats. While the general rule should be to not pay any attention to her whatsoever because attention is what she so desperately craves, much of the time we are forced to listen to her purposely offensive rhetoric due to the fact that cable news networks, late-night talk shows and radio stations are constantly booking her to appear.
During an appearance on Fox Business Channel's Kennedy, Coulter sat down with host and former MTV VJ Kennedy to talk about the ongoing Confederate flag debate that has been all the rage on Fox and the rest of conservative media. Essentially, Coulter took the stance that people like Rush Limbaugh and others have decided to go with, which is that the left-wing in this country is trying to change and whitewash history by demonizing the Confederate flag and other symbols and figures representing the Confederate Army. When it was brought up that Republican South Carolina Governor Nikki Haley was in favor of removing the flag from the state's capitol, Coulter referred to her as an immigrant who does not know anything about American history.
Coulter's comments about Haley were immediately met with mockery from both the left and right as Haley, while of Indian descent, was actually born and raised in South Carolina, making her specifically NOT an immigrant. On Wednesday, Coulter took to Twitter to defend herself and point out that she wasn't wrong when she called Haley an immigrant. In response to a tweet asking her to explain her on-air comments about Haley, Coulter sent out the following:
2d gen immigrant, as she constantly brags. Maj. Nidal Hasan, Anwar al-Awlaki, Octomom -we R getting the best ppl! https://t.co/oJ80xSghLD

— Ann Coulter (@AnnCoulter) June 24, 2015
See, Haley is a second-generation immigrant since her parents weren't born in the United States. Furthermore, being the child of immigrants, she is directly comparable to two terrorists and a fame-seeking tabloid personality. Because apparently all non-Mayflower Society members are drags on our society and make Lady Liberty cry.
Unlike typical Coulter shitstirring, this time conservatives are joining in and saying that they are just plain old tired of her schtick. In selling her latest hate-filled tome, this one about how immigrants are ruining America, Coulter has been pushing straight-up racist and bigoted rhetoric everywhere she goes and it just isn't finding many takers, regardless of her numerous appearances on right-wing shows. After a certain point, just spewing hate for hate's sake get old, even for the rabid Fox viewer.