Cardinals Fans And Media Gonna Have To Eat A Whole Lotta Crow Over "Cardinal Way" Rhetoric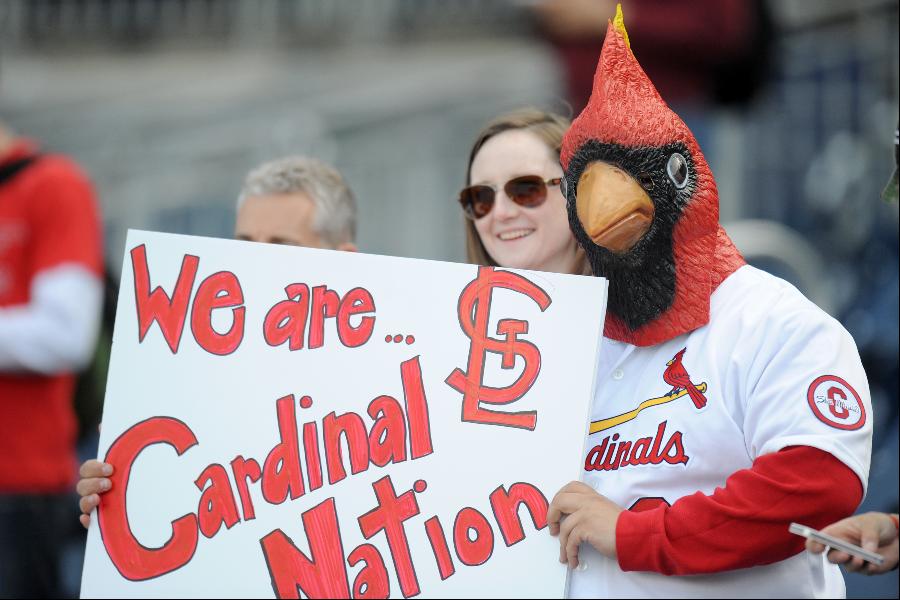 News broke Tuesday that the FBI is currently investigating the St. Louis Cardinals for allegedly hacking into a proprietary computer database set up by the Houston Astros. The database, which hold Astros player personnel information, was developed by Houston general manager Jeff Luhnow, who worked in the Cardinals organization from 2003 to 2011 until taking the Astros job in December 2011. Luhnow was a somewhat polarizing figure with the Cards during his time with the team, and that could have played into St. Louis employees hacking into his database.
Per the New York Times, who broke the story, this is the first time that a professional sports team has been investigated for corporate espionage by the FBI. Major League Baseball has not acted yet and will likely wait until the investigation has concluded to dish out any suspensions or fines.
The attack represents the first known case of corporate espionage in which a professional sports team has hacked the network of another team. Illegal intrusions into companies' networks have become commonplace, but it is generally conducted by hackers operating in foreign countries, like Russia and China, who steal large tranches of data or trade secrets for military equipment and electronics.
Major League Baseball "has been aware of and has fully cooperated with the federal investigation into the illegal breach of the Astros' baseball operations database," a spokesman for baseball's commissioner, Rob Manfred, said in a written statement.
The Cardinals officials under investigation have not been put on leave, suspended or fired. The commissioner's office is likely to wait until the conclusion of the government's investigation to determine whether to take disciplinary action against the officials or the team.
Of course, for many sports fan and media members, the real story isn't necessarily that the Cardinals hacked into a rival team's database to spy on their personnel moves. No, the real story is regarding the insufferable way Cards fans and the local sports media has carried itself regarding the team while at the same time tossing judgment on other cities and organizations for how they behave. The so-called "Cardinal Way" that sportswriters and the "Best Fans In Baseball" constantly tout is now going to have a new meaning.
As soon as the shit hit the fan Tuesday morning, St. Louis critics came out of the woodwork and started tossing bombs. Deadspin's Tom Ley — Deadspin has long hated the Cardinals and its fans — made sure to hit the Cards right away by pointing out how dumb they are.
What makes the St. Louis Cardinals hacking scandal really great, aside from the fact that it involves the St. Louis Cardinals, is that it could not have happened if everyone involved hadn't acted as stupidly as possible.
The Cardinals front-office executives who hacked into the Astros' database are extremely dumb. You can't even give them credit for being l337 H4x0rs because all these dummies did was use one of the old passwords Astros GM Jeff Luhnow used when he worked for the Cardinals, and they did it from their own goddamn home, which made it very easy for FBI to track them down. Here is a tip: If you're going to commit corporate espionage, don't do it from your home computer. Go find, like, an internet cafe or something.
Meanwhile, others took to Twitter to give their hot takes on the situation. First, we had a bunch of people poke fun at the "Cardinal Way" and what it must actually mean.
This hacking report gives new meaning to the phrase "The Cardinal Way" which has been used during the team's long run of success.

— Tom (@Haudricourt) June 16, 2015
The Cardinal Way: signing a PED user (Peralta), intentionally beaning players (Hanley) & now hacking teams (Astros). https://t.co/aUvHquF5oo

— Tony Ciniglio (@TCiniglio) June 16, 2015
#TheCardinalWay does that include hacking into databases now?

— DodgersBeat (@DodgersBeat) June 16, 2015
Just expanding the definition of what it means to do things "The Cardinal Way."

— Todd C. Frankel (@tcfrankel) June 16, 2015
The Cardinal Way? http://t.co/QuMCUcsuXf

— Craig Calcaterra (@craigcalcaterra) June 16, 2015
Then you had the play on the "Best Fans In Baseball" label Cards fans like to throw around.
I'm surprised they were caught. Don't they have the best hackers in baseball?https://t.co/eoRwwIkwvr

— Matthew Pouliot (@matthewpouliot) June 16, 2015
holy shit. best hackers in baseball? https://t.co/nV3SJBxyXB

— Jay Jaffe (@jay_jaffe) June 16, 2015
The #Cardinals: best hackers in baseball bar none. Taking cheating to another level.

— Ray Guilfoyle (@faketeams) June 16, 2015
Finally, others just wanted to make comparisons to DeflateGate and other sports controversies and note that the Cards may have them all beat.
Wow. The #Cardinals hacking into #Astros database makes stealing signals and deflating footballs seem REALLY insignificant. #TheCardinalWay

— Brian Baumgartner (@BBBaumgartner) June 16, 2015
Let me start the righteous indignation over the Cardinals hacking scandal. Everything they ever won is tainted. #Cheatinals Feels good

— Jerry Thornton (@jerrythornton1) June 16, 2015
A whole lot of Cardinals fans suddenly discovered that they care about due process

— Bobby Big Wheel (@BobbyBigWheel) June 16, 2015
Breaking: #Cardinals say hacking references, were referring to chopping down foliage in their backyard. #thedeflator

— Benjamin Allbright (@AllbrightNFL) June 16, 2015
Roger Goodell has cleared the St. Louis Cardinals of any wrongdoing

— Dave Itzkoff (@ditzkoff) June 16, 2015
And, of course, there are thousands upon thousands of other tweets smacking down the Cardinals. Right now, there is nothing Cardinal fans or media can do but take a big ol' mouthful of shit and deal with it. They brought this upon themselves with their behavior and holier-than-thou attitudes and now have to suffer the consequences.
Image via Forbes