Jake Tapper Blasts GOP for Deferring to 'Unhinged, Mendacious Desperation' of Trump's Election Lawsuits, False Twitter Claims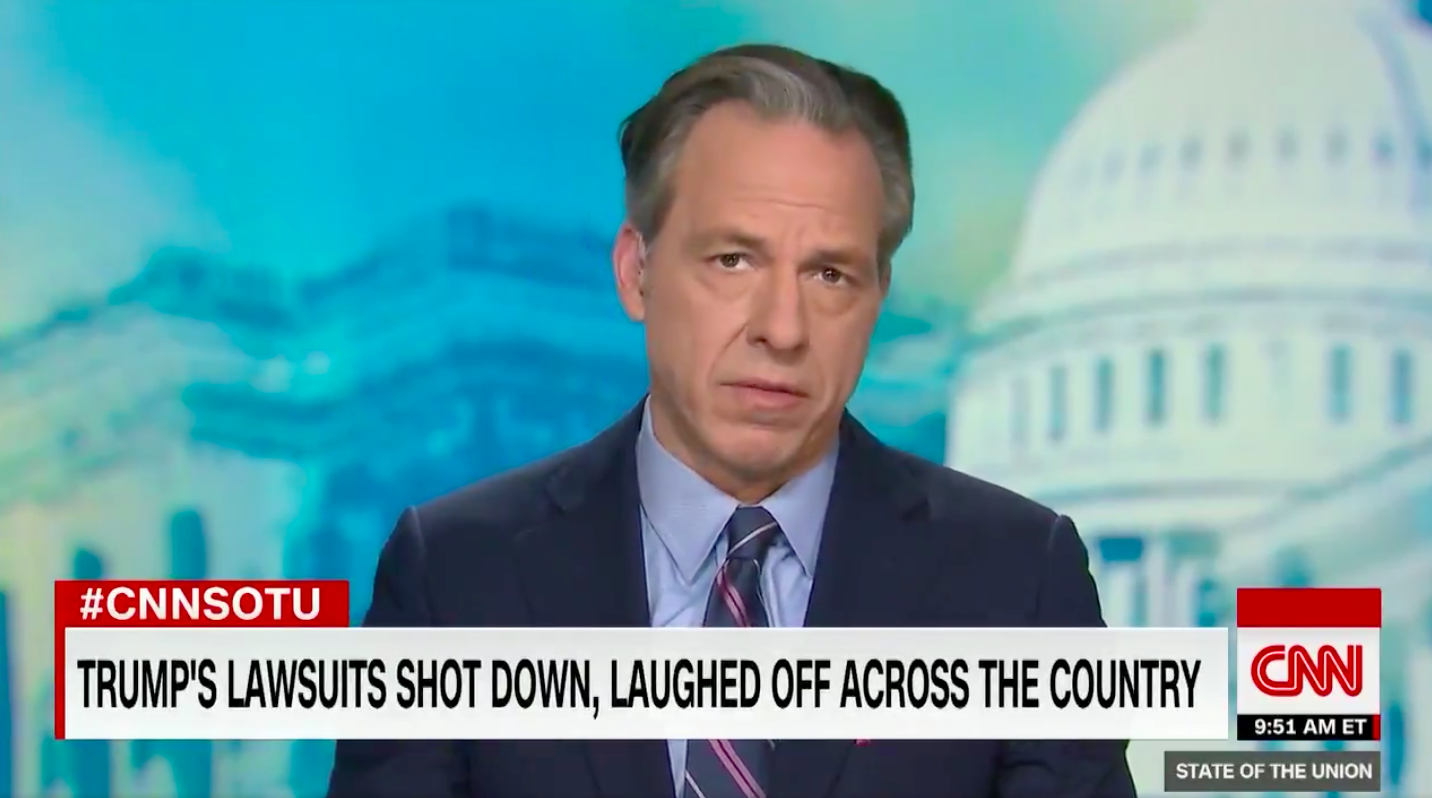 CNN State of the Union host Jake Tapper criticized Republicans for largely failing to publicly push back against President Trump's lawsuits intended to prove massive voter fraud even though there is no evidence of it.
"There is a lot of deference being given by Republicans in Washington, D.C. to the Trump campaign's legal efforts," Tapper said Sunday, beginning his closing monologue by highlighting all its stalled lawsuits.
"While the president can lie on Twitter, judges need facts, they need evidence," he said as the chyron read, "Trump's Lawsuits Shot Down, Laughed Off Across Country."
Tapper went through instances in several states where Trump's lawyers ended up folding in court because the consequences for lying there are more severe than on social media, not surprisingly.
"It's been frankly embarrassing," Tapper explained. "No evidence, unprofessional, desperate."
"Trump campaign lawyers seem to realize being involved in fact-free desperation efforts to overturn the results of a free and fair election might not necessarily enhance their resumes," Tapper said, pointing out that on Friday nine cases were either rejected or dropped.
Yet even after every legal avenue has been exhausted, Tapper said, Trump will likely continue to lie.
"How long is the Republican Party going to continue to defer to unhinged, mendacious desperation led by the gang that couldn't sue straight?" he asked.
Watch the video above, via CNN.