Mark Meadows Undermines FBI Director on Voter Fraud by Mocking Him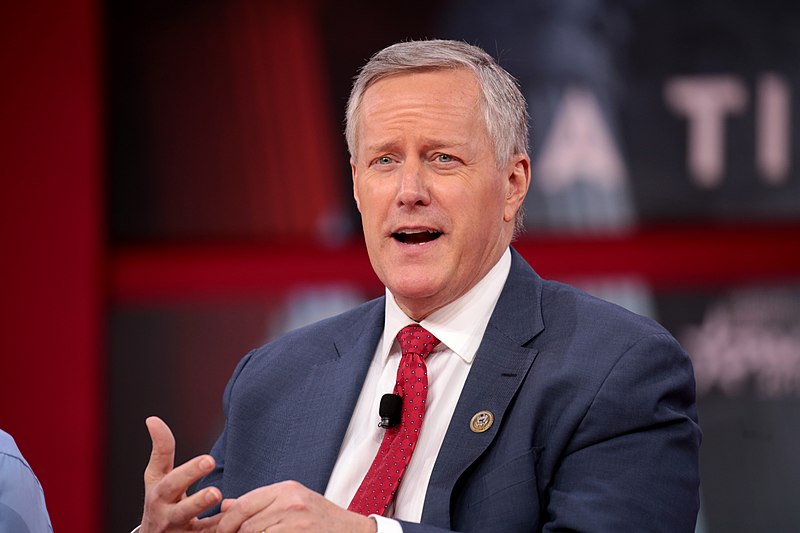 White House chief of staff Mark Meadows undermined FBI Director Chris Wray's claim that there is no evidence of widespread voter fraud on Friday. Meadows appeared on CBS This Morning and mocked Wray for his sworn testimony before the Senate Homeland Security Committee on Thursday.
"With all due respect to Director Wray, he has a hard time finding emails in his own FBI, let alone figuring out whether there's any kind of voter fraud," Meadows said.
He pointed to a newly opened investigation into nine discarded ballots in Pennsylvania. The Department of Justice's statement on the matter raised some eyebrows, with critics pointing out it played into President Donald Trump's false claims about voter fraud.
"Perhaps he can drill down on the investigation that just started," Meadows said of Wray. "Perhaps he needs to get involved on the ground and will change his testimony on Capitol Hill."
The FBI director told the Homeland Security Committee that the bureau had not seen evidence of the kind of fraud Trump and his supporters, including senior Republicans in the administration, have claimed.
"We have not seen, historically, any kind of coordinated national voter fraud effort in a major election, whether it's by mail or otherwise," Wray said on Thursday.