Joni Ernst, Who Criticized Obama's 'Failed Leadership' During Ebola Outbreak, Says Trump Is 'Stepping Forward' on Coronavirus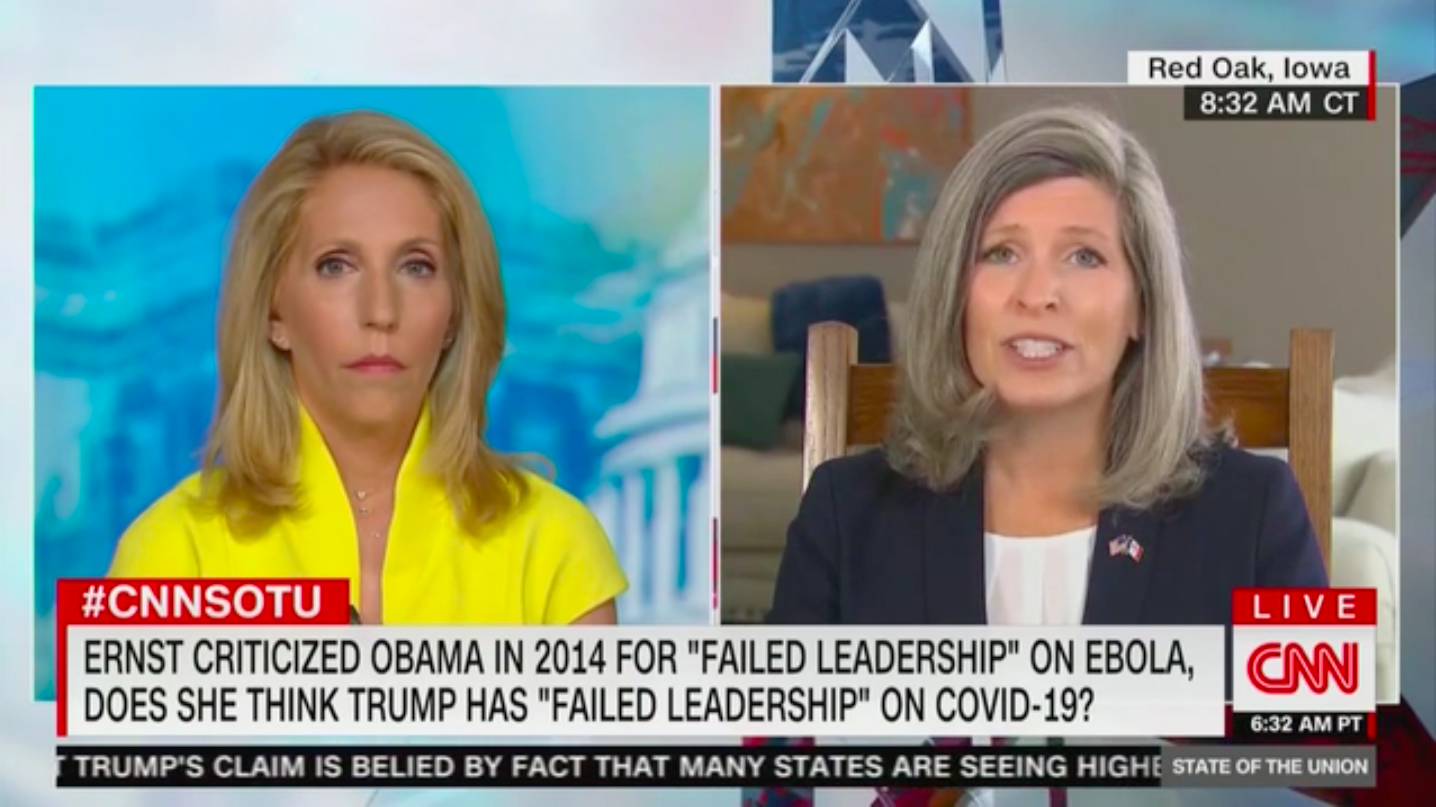 Sen. Joni Ernst (R-IA) declined to criticize President Trump's handling of the coronavirus pandemic, which has thus far killed nearly 130,000 Americans, despite her having called out former President Obama for his "failed leadership" during the 2014-2016 Ebola outbreak, which resulted in two American deaths.
When asked the first time by CNN's Dana Bash if Trump has exhibited failed leadership, Ernst sidestepped the question, saying that "we all have responsibility in stopping the spread."
"This is a virus that is not going to go away soon," Ernst said. "We want to make sure that we are watching this and doing everything that we can as a federal government, including the research and development of therapeutics and vaccinations, to make sure that we are doing the right thing as a nation."
When Bash asked again if Trump was showing failed leadership, Ernst gave a direct answer.
"No, I think that the president is stepping forward," Ernst said. She went on to blame Democrats for some of the difficulty in mustering an adequate federal response.
"Understanding where [the coronavirus] came from, how it developed, of course, the push back that we got from the Democrats when the president did try to shutdown travel from some of those hot spots, it was an extremely difficult environment to operate," Ernst said.
In 2014, Ernst, then a candidate for the Senate seat she now holds, said she wasn't sure if Obama cares about Americans' safety.
"I don't know that he does," Ernst told a reporter in November of that year. "He hasn't demonstrated that."
Ernst is facing a competitive reelection race, with Democratic challenger Theresa Greenfield leading by a few points in the three most recent polls, according to FiveThirtyEight.
Watch the video above, via CNN.