Bubba Wallace Reacts to Those Who Believe He Faked Hate Crime: 'I'm Pissed!'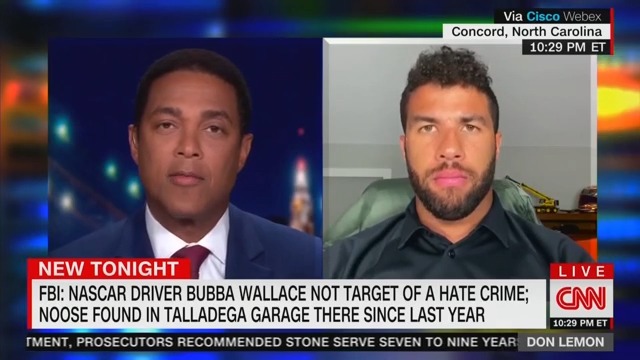 NASCAR driver Bubba Wallace appeared on CNN Tuesday night to react to the FBI's conclusion that he was not the target of a racist hate crime, saying he was "pissed" that people are doubting his character and integrity.
Asked by CNN anchor Don Lemon how he felt about this situation, Wallace tersely replied: "I'm pissed!"
"I'm mad because people are trying to test my character and the person that I am," he added. "And my integrity. They're not stealing that from me but trying to test that. And as a person that doesn't need the fame or the hype or the media, I could care less."
Wallace went on to describe the meeting he first had with Phelps on Sunday night when a member of his racing crew first discovered the rope in the garage stall, pointing out that the NASCAR president had "tears rolling down his face" over the incident, believing it was a hate crime.
Read the rest of the piece at The Daily Beast.
Watch the clip above, via CNN.