HHS Secretary Alex Azar Punts When Jake Tapper Presses Him on Eric Trump's Conspiracy Mongering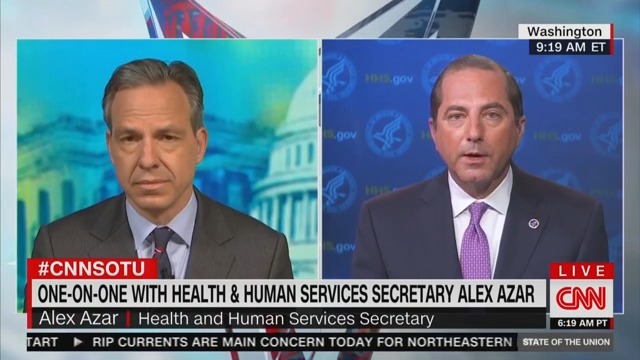 Health and Human Services Secretary Alex Azar largely punted on Sunday when confronted by CNN anchor Jake Tapper over presidential son Eric Trump's accusations that Democrats are milking the coronavirus pandemic to hurt President Donald Trump and that the virus will "magically" disappear after Election Day.
In an interview with pro-Trump Fox News host Jeanine Pirro on Saturday night, Eric Trump dove down a conspiratorial rabbit hole while talking about presumptive Democratic presidential nominee Joe Biden. Claiming Biden "loves" the pandemic because it prevents him from making "horrible blunders" on the campaign trail, the president's son suggested stay-at-home orders were aimed at shutting down his father's campaign.
"They think they're taking away Donald Trump's greatest tool, which is being able to go into an arena and fill it with 50,000 people every single time," he exclaimed before claiming Democrats will "milk it every single day between now" and the election.
Read the rest of the piece at The Daily Beast.Read the rest of the piece at The Daily Beast.
Watch the clip above, via CNN.