Larry Kudlow Strikes Optimistic Tone: 'Glimmer of Hope' in Terrible Unemployment Numbers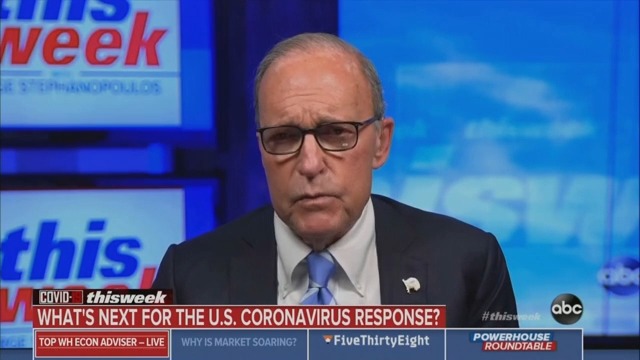 White House economic adviser Larry Kudlow on Sunday attempted to strike an optimistic tone on April's historically bad unemployment numbers, insisting that there was a "glimmer of hope" in the report showing over 20 million jobs lost and the unemployment rate surging to nearly 15 percent.
"Inside the numbers, there's a glimmer of hope," Kudlow said. "We have 80 percent of it was furloughs and temporary layoffs. That, by the way, doesn't assure that you will go back to a job, but it says strongly that the cord between the worker and the business is still intact. I think, hopefully, that has something to do with the $3 trillion of assistance, including the payroll protection plan."
Anchor George Stephanopoulos noted that Democrats are now pushing for additional coronavirus funding that would include more aid for food stamps, state governments and expanded testing, wondering aloud why the Trump administration has pushed back on the plan.
Read the rest of the piece at The Daily Beast.Read the rest of the piece at The Daily Beast.
Watch the clip above, via ABC News.