Chris Wallace Asks Mnuchin If His Predictions are 'Based on Economic Reality or the November Election'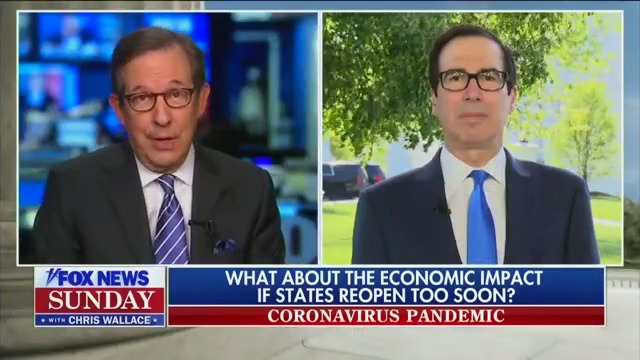 Treasury Secretary Steven Mnuchin was pressed Sunday on whether his projections for the national unemployment figures having anything to do with the November election.
"I think it's important that we face what the real numbers are," Fox News host Chris Wallace told Mnuchin.
"The Bureau of Labor Statistics says the real number, which includes people who are not looking for work, is 22.8%. That does not include…the 7 million people who have lost their jobs since then. Aren't we talking close to 25% at this point, which is Great Depression neighborhood?"
Mnuchin responded that that is a possibility, noting that the circumstances surrounding the current rising unemployment number are different.

"We're very focused on rebuilding this economy," the Treasury secretary added. "That's why we're focused on rebuilding this economy. We'll have a better third quarter, we'll have a better fourth quarter and next year is going to be a great year."
Mnuchin said his prediction factored in coronavirus vaccines being available by the end of the year and a "careful reopening" of business.
"You and the president both say that the economy is going to come roaring back," Wallace noted. "But I've got to ask you about a number of signs that indicate that the recovery is going to be much slower than that, sir."
Wallace then highlighted how three million white collar and government jobs have been lost, major retailers have declaring bankruptcy, and thee CBO projects unemployment will be near 10% at the end of next year.
"Are your rosy predictions based on economic reality or the November election?" Wallace asked.
"My numbers aren't rosy," Mnuchin said. "I've said we are going to have a very, very bad second quarter and then I think you are going to see a bounce back from a low standpoint."
Watch the video above, via Fox News.