Roger Stone, Released from Gag Order, Tells Tucker Carlson His Imprisonment Is 'Essentially a Death Sentence'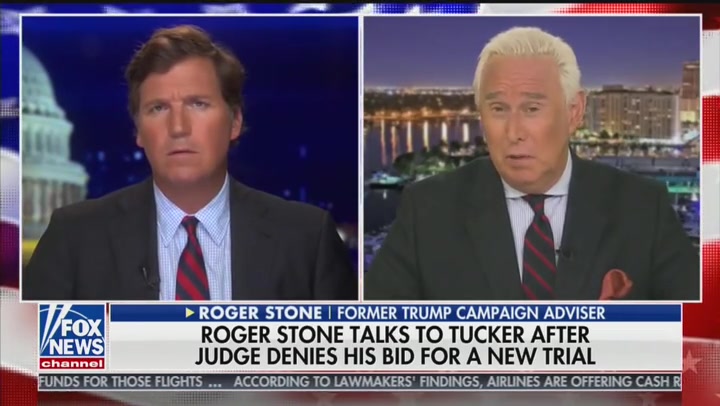 Longtime Trump friend Roger Stone went on Tucker Carlson Tonight on Friday to complain about his looming prison sentence, calling it "essentially a death sentence" in light of the coronavirus pandemic spreading through prisons.
The judge in Stone's case on Thursday denied his second request for a new trial after he alleged bias among the jury, calling Stone's claim "often umoored from facts."
Released from his gag order, Stone was free to appear on television to claim that he got railroaded, with Carlson agreeing. Stone's crime, Carlson said, was viewed as being "worse than raping someone," and was "the most corrupt, political, criminal justice proceeding I've ever seen."
Stone was convicted last fall of lying to Congress and threatening a witness. He was sentenced in February to 40 months in prison.
"At 67 years old with some underlying health problems, including a history of asthma, I believe with the coronavirus it is essentially a death sentence," Stone said.
Watch the video above, via Fox News.