Tapper Takes Bill de Blasio to Task Over Delayed COVID-19 Response: Aren't You Partially to Blame for Virus' Rapid Spread?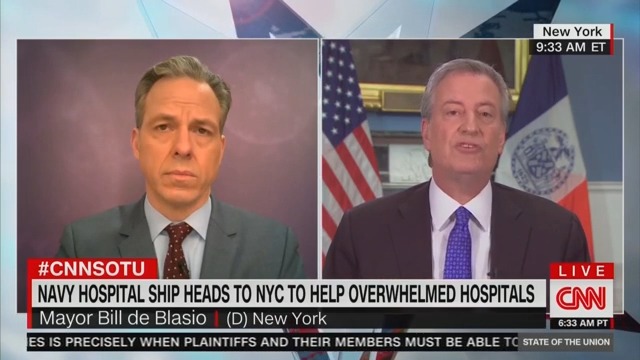 New York City Mayor Bill de Blasio was left flailing on Sunday morning when CNN anchor Jake Tapper repeatedly pressed him on his delayed response to the coronavirus pandemic and whether de Blasio's assurances to New Yorkers that their lives would go on normally led to the rapid spread of the virus.
Playing a series of video clips of the Democratic mayor telling city residents to "go about your lives" over the past couple of months, Tapper noted that de Blasio was delivering that message to the city as recently as March 13.
"In retrospect, is that message, at least in part, to blame for how rapidly the virus has spread across the city?" Tapper wondered aloud.
Read the rest of the piece at The Daily Beast.
Watch the clip above, via CNN.