Former Russia Ambassador: Trump-Lavrov Meeting 'Especially Tragic'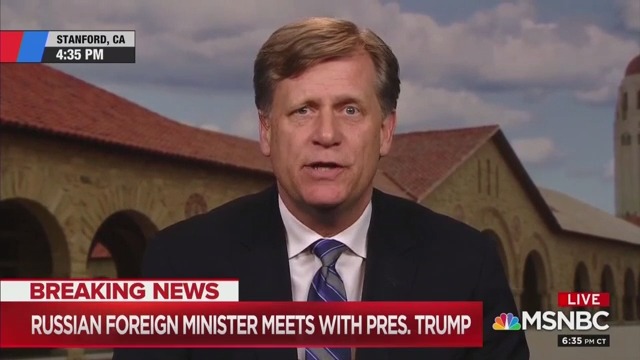 A former U.S. ambassador to Russia criticized Tuesday's Oval Office meeting between President Trump and Russia's Foreign Minister Sergey Lavrov, as it occurred mere hours after the House Judiciary Committee announced two articles of impeachment regarding Trump's activity toward Ukraine, which is currently fighting Russian aggression.
Michael McFaul, who served during the Obama administration from 2012 to 2014, called the circumstances surrounding the meeting "tragic."
When asked by Chris Matthews on MSNBC's Hardball why the president would want to be seen with Lavrov on today of all days, McFaul said he had no clue.
"I hope it's a coincidence, but it's highly unusual because the whole visit is just symbolic," McFaul said. "If you look at the read-outs, they discuss nothing of substance and the symbolism is, I think, historic: the second time Foreign Minister Lavrov has been in the Oval Office in four years' time."
During the first meeting in May 2017, Trump revealed classified military information to Lavrov.
"And it's especially tragic in my view because of what you just said: President Zelensky has yet to visit the Oval Office," McFaul added.
As the House Intelligence Committee's report on the Trump-Ukraine scandal notes, the Ukrainian president sought an Oval Office meeting in order to show the world that the U.S. had its back in its ongoing war with Russia. President Trump, however, leveraged this meeting along with vital military assistance in exchange for an announcement by Zelensky of an investigation into a political opponent.
McFaul added that he would support the meeting if it led to a tangible result, "but after three years of happy talk, after three years of fealty towards President Putin, we have not received one concrete deliverable…in U.S.—Russian relations."
Watch the video above, via MSNBC.