Ex-GOP Congressman Predicts Giuliani Will Face Prison Time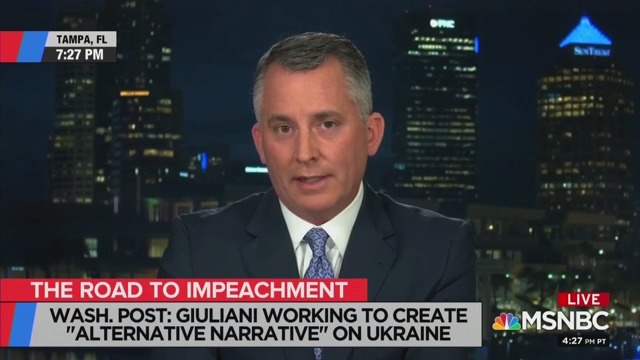 A former Republican congressman said he expects President Trump's personal lawyer to end up facing the same punishment as Michael Cohen, Trump's fixer for more than a decade until last year: incarceration.
David Jolly, who last year renounced his party, made the prediction about Rudy Giuliani on MSNBC's Hardball on Thursday.
After host Chris Matthews cited a Buzzfeed report about Giuliani's recent return to Ukraine to continue to gin up dirt on presidential candidate Joe Biden through a documentary produced by the fervently pro-Trump media outlet OANN, Jolly saw this as a sign of the Trump administration's incessant malevolent intentions.
"Why is Rudy over there now, Chris? Because they're all corrupt. This whole Trump team is corrupt. That's the bottom line," Jolly said.
"I think Rudy Giuliani ultimately ends up in jail for foreign violations or some other type of violation related to disclosure and receiving foreign money."
Lev Parnas and Igor Fruman, two business associates of Giuliani who helped him gather potentially damaging material on Joe Biden and his son, Hunter, in Ukraine, were arrested in October on campaign finance-related charges. Giuliani's interactions with the two men — specifically, whether he broke laws meant to prevent covert foreign influence in government — is the subject of a criminal investigation.
Giuliani's ongoing antics overseas will nevertheless be praised by some Republicans, Jolly maintains.
"This will feed the rank and file Republicans — particularly in the House — who will continue to try to delegitimize the Democrats' investigation when in fact it is the Republicans who are delegitimizing it by not cooperating with the Democrats."
Watch the video above, via MSNBC.