Fusion GPS Founders on Giuliani's Ukraine Narrative: We Won't Let Him 'Deliberately Lie About Us'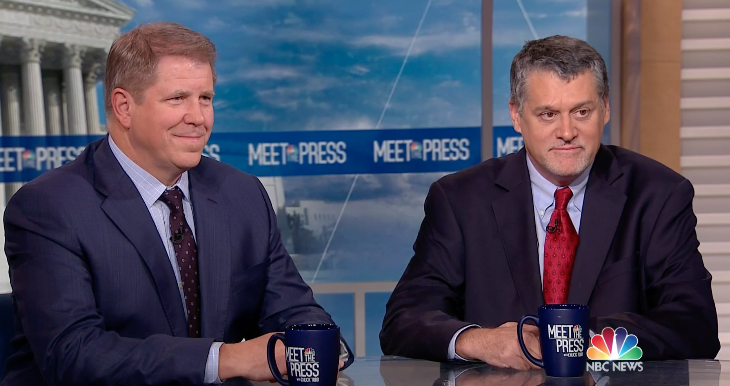 The founders of a research firm that produced some of the earliest reports about Russia's activity during the 2016 presidential campaign are fighting back against falsehoods pushed by Rudy Giuliani, President Trump's personal lawyer.
Glenn Simpson and Peter Fritsch, founders of Fusion GPS, the firm that commissioned the often-cited reports by former British intelligence officer Christopher Steele, told Chuck Todd on NBC's Meet the Press that Giuliani is knowingly peddling a conspiracy-laden narrative.
"I wanted to put him on notice that we're just not going to let him deliberately lie about us," Simpson said. Simpson is referring to a personal encounter with Giuliani just this week after the former New York mayor had said on Glenn Beck's television show that he had "very strong evidence that a lot of the Steele dossier was produced in Ukraine" and that "Simpson spent a fair amount of time there during the time that the dossier was being written."
Simpson confronted Giuliani on a plane, debunking his claims to his face.
"Let's be clear: he's not confused, he's deliberately lying," Simpson explained. "We're going to respond when people deliberately lie about us, especially if it's the president of the United States' lawyer."
Giuliani has spent considerable time injecting into the public discourse the idea of a "Democrat criminal conspiracy with Ukrainians" to prevent Trump's election in 2016 in an effort to absolve Russia of its election meddling. Several Republicans during the impeachment hearings and in television interviews have parroted this view. This alternative narrative is, however, the product of a Russian disinformation campaign, as noted by U.S. intelligence officials.
Watch the video above, via NBC.