Trump Directly Implicated In Ukraine Affair By State Department Aide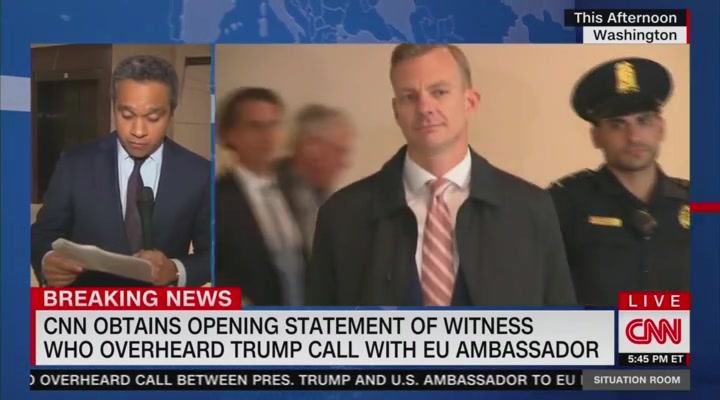 An impeachment witness on Friday provided firsthand evidence of President Trump demanding an "investigation" of the Bidens by Ukraine, according to his opening statement first reported by CNN.
David Holmes, an embassy staffer in Kyiv, said he overheard a July 26 phone call between Trump and Gordon Sondland, the U.S. ambassador to the EU, in which Trump pressed his Ukrainian counterpart to "do the investigation."
"Ambassador Sondland replied that 'he's gonna do it,' adding that President Zelensky will do 'anything you ask him to,' " Holmes said, according to his prepared remarks.
Holmes added that when he asked the Sondland about Trump's views, Sondland said Trump didn't care about the country and was more focused on "big stuff" like the Biden investigation being led by Rudy Giuliani, the president's personal lawyer.
"While Ambassador Sondland's phone was not on speakerphone, I could hear the President's voice through the earpiece of the phone. The President's voice was very loud and recognizable, and Ambassador Sondland held the phone away from his ear for a period of time, presumably because of the loud volume," Holmes testified.
"Even though I did not take notes of those statements, I have a clear recollection that these statements were made," he added.
Holmes' testimony was spurred by acting ambassador to Ukraine Bill Taylor's revelation on Wednesday that an aide had informed him that he had overheard the phone call between Sondland and Trump.
Sondland did not mention this call during closed-door testimony last month, claiming little knowledge of any investigation into the Bidens sought by the president. Sondland is scheduled to appear before Congress for a televised hearing next week.
At a press conference Wednesday, President Trump denied knowing about the call.
The Associated Press reported Thursday that a second U.S. Embassy staffer in Kyiv, Suriya Jayanti, overheard the phone call as well.
Watch the video above, via CNN.