Gordon Sondland: I Was Directed By Trump to Work With Giuliani on Ukraine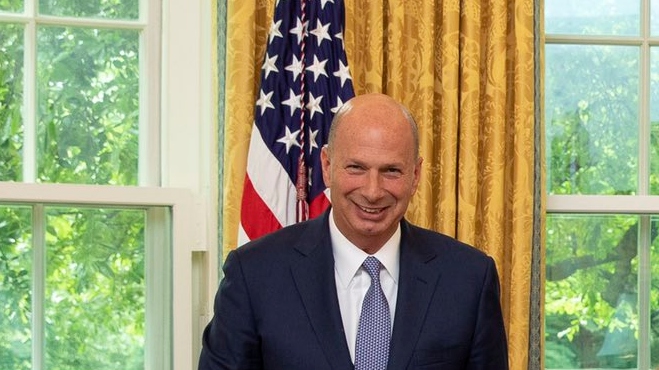 Gordon Sondland will tell Congress on Thursday that President Donald Trump wanted Ukraine to investigate the 2016 U.S. presidential election and a gas company linked to Hunter Biden, son of former Vice President Joe Biden. The ambassador to the European Union made the claim in his written opening statement, which has been released to the press.
"My understanding was that the president directed Mr. Giuliani's participation, that Mr. Giuliani was expressing the concerns of the president," Sondland will say.
Sondland will say that he, Ukraine envoy Kurt Volker and Energy Secretary Rick Perry were unhappy with Rudy Giuliani's involvement in Ukrainian matters. Giuliani, Trump's personal lawyer, was investigating unfounded allegations against Hunter Biden.
"We were also disappointed by the President's direction that we involve Mr. Giuliani. Our view was that the men and women of the State Department, not the President's personal lawyer, should take responsibility for all aspects of U.S. foreign policy towards Ukraine," Sondland's statement says.
"However, based on the President's direction, we were faced with a choice: We could abandon the goal of a White House meeting for President Zelensky, which we all believed was crucial to strengthening U.S.-Ukrainian ties and furthering long-held U.S. foreign policy goals in the region; or we could do as President Trump directed and talk to Mr. Giuliani to address the President's concerns."
Sondland will testify that Giuliani mentioned having the Ukrainians investigate the 'lost' DNC server, which does not exist and is the subject of a conspiracy theory. Sondland will say that he spoke directly to Trump over the phone about aid which had been held up and Trump told him there was 'no quid pro quo.'
"Let me state clearly: Inviting a foreign government to undertake investigations for the purpose of influencing an upcoming U.S. election would be wrong" Sondland will say.
"Withholding foreign aid in order to pressure a foreign government to take such steps would be wrong. I did not and would not ever participate in such undertakings. In my opinion, security aid to Ukraine was in our vital national interest and should not have been delayed for any reason."