Mayor Pete Clashes with Beto O'Rourke: 'I Don't Need Lessons in Courage From You'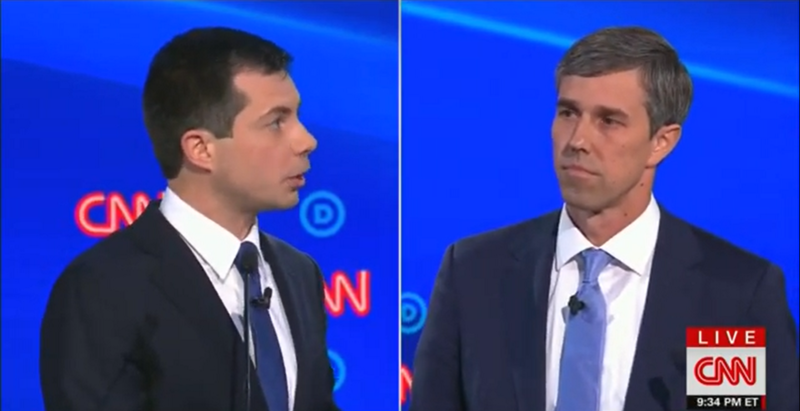 Mayor Pete Buttigieg blasted former Congressman Beto O'Rourke at Tuesday night's Democratic presidential debate. In one of the few stand out moments from the 12-person debate. Buttigieg took aim at O'Rourke's radical proposal on gun control.
O'Rourke supports a mandatory gun buyback scheme that, he says, would require going door to door in order to confiscate assault weapons. He re-iterated his support for the measure on Tuesday, pointing out that law enforcement would have to be involved.
Buttigieg, who has criticized the plan, was asked to comment. He continued his criticism and the two men clashed about the issue. Buttigieg downplayed the effectiveness of O'Rourke's idea, while O'Rourke made clear he didn't see it as a liberal 'purity test.'
"Let's follow their inspirational lead, and not be limited by the polls and the consultants and the focus groups, let's do what's right while we have time to do what's right," O'Rourke said.
"The problem isn't the polls, the problem is the policy," Buttigieg said. "And I don't need lessons from you on courage, political or personal."
"Everyone on this stage is determined to get something done," the South Bend mayor said, "Everyone on this stage recognizes, or at least I thought we did, that the problem is not other Democrats who don't agree with your particular idea of how to handle this, the problem is the National Rifle Association and their enablers in Congress, and we should be united in taking the fight to them."
Watch the exchange above, via CNN.