'Some Don't Like Him, and Some Hate Him': New Profile Shows Hatred of McConnell in Kentucky Runs Deep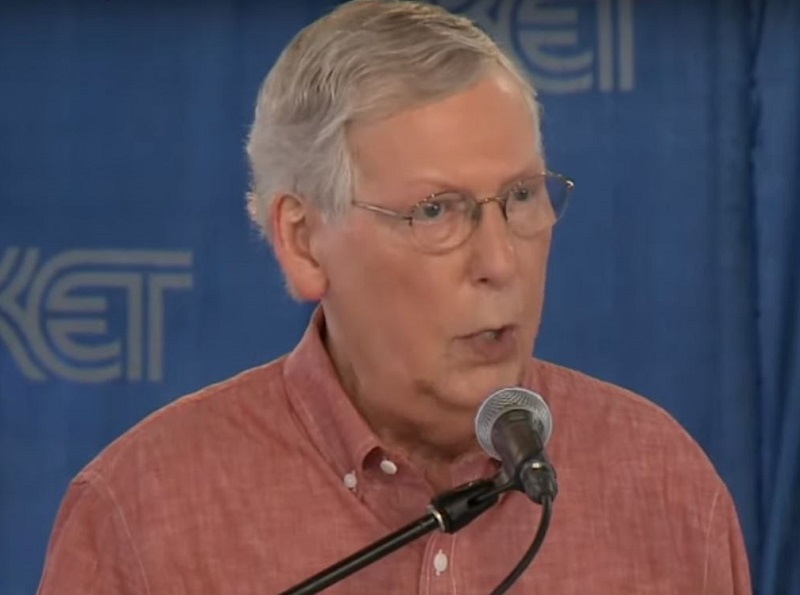 It is no secret to political observers that Senate Majority Leader Mitch McConnell has seen his standing fall in his home state of Kentucky. But a new profile in Rolling Stone really drives home just how precipitous the dive has been.
The magazine's Bob Moser sets the scene at the Fancy Farm Picnic, a longtime political event in Kentucky where candidates for office make snarky speeches while the crowds hoot in either appreciation or opprobrium.
It is an environment where McConnell has long thrived. But this past summer, things went poorly for him, as foreshadowed by this passage:
Before the speechifying, I run into Bennie J. Smith, a civil-rights activist and jazz musician making a long-shot bid for the Democratic nomination to unseat McConnell, and he assesses the mood: "I'd say the crowd is pretty evenly divided the way Kentucky is: Some don't like him, and some hate him."
Smith may have been understating the case:
And one tick after the emcee starts to introduce him, a clamor rises up that no human voice could pierce — the MC whoop of ancient blood battles about to commence, drowning out McConnell as he tries to speak.

But they can barely hear, and the "Moscow Mitch!" chant is only growing louder. As McConnell's six allotted minutes go on, his jowls redden; his voice cracks and rasps as he gestures toward the baying Democrats, offering a preview of his 2020 campaign message.
Whether this presages McConnell perhaps losing his re-election effort in 2020 is impossible to say. As a longtime Kentucky political reporter notes later in the story, McConnell's low approval ratings stem from his lack of a "warm and fuzzy" personality. But when he gets in a race against an opponent, "he's pretty good at driving them down to his level."
Read the entire story here.