NC GOP Votes to Override Budget Veto While Dems Are Absent Due to 9/11 Anniversary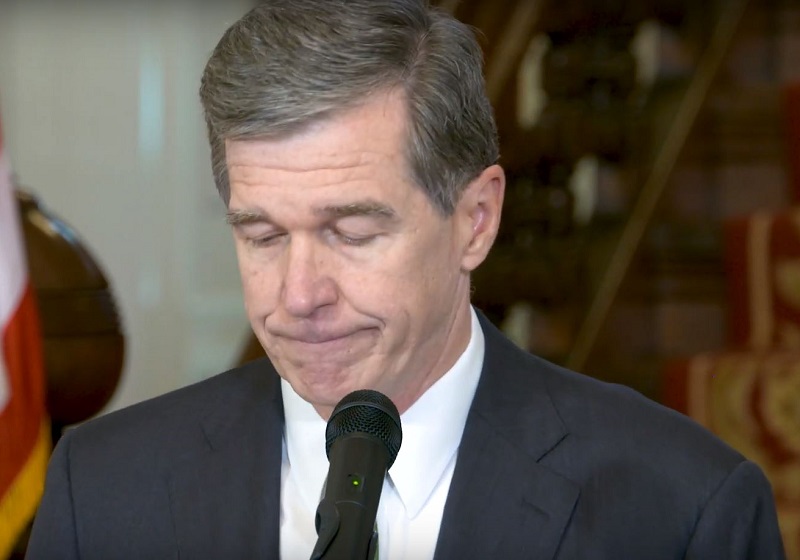 Republicans in North Carolina have proven time and again that they are not fond of democracy.
Sometimes there are consequences for that stance, such as when a court recently struck down the GOP's partisan gerrymander of the state's legislative districts. Sometimes there are no consequences, such as on Tuesday when a Republican named Dan Bishop won the special election for the congressional seat in NC-09 after last fall's election, also won by a Republican, was invalidated due to ballot fraud committed by a GOP operative.
Now we have Wednesday morning, when the GOP majority in the state House took advantage of most Democrats' absence to call a surprise vote that overrode the budget veto of Democratic governor Roy Cooper.
Why were the Democrats not in the chamber? Most were absent due to the 9/11 anniversary and had apparently been assured by GOP leaders that no votes would be called while they were there. The governor, meanwhile, was attending a 9/11 memorial ceremony while the vote was taking place.
To say the few Democrats in the chamber were furious would be an understatement, as is evident in this stemwinder of a speech from Rep. Deb Butler:
Afterwards, Democrats called a quick news conference. The caucus' Minority Leader, Rep. Darren Jackson, made it clear that Republican leaders had told him there would be no "normal session" where votes are taken until Wednesday afternoon:
RIGHT NOW: In hastily announced news conference, @nchousedems Minority Leader @JacksonforNC says he was told on multiple occasions by @RepDavidRLewis there would be no votes until at least 1:00 p.m. Tuesday. @NCGOP @ABC11_WTVD #ncga #ncpol pic.twitter.com/7HEEWvpLlB

— Jonah Kaplan (@KaplanABC11) September 11, 2019
The standoff has been going on for two months, held up by Cooper's insistence on including the Affordable Care Act's Medicaid expansion in the budget. Republicans have reportedly refused to negotiate with him over it.
In August, according to the Charlotte News & Observer, House Speaker Tim Moore said that the chamber would vote on overriding Cooper's veto when there was enough support to pass it with a supermajority. With the full House present, that would mean all Republicans and seven Democrats, 72 legislators in all, would have to vote for the override.
But with only 64 of the chamber's 120 members present, Moore could pass the veto 55-9. He didn't even need his entire caucus there to get a supermajority.
Cooper also called a press conference after the vote to blast the Republicans for "wag[ing] an assault on our democracy" and accusing them of "cheat[ing] the people of North Carolina."
The Republican response to all of this? Blasting Democrats for "missing work" on Wednesday:
.@RepDavidRLewis: "I publicly announced votes would take place today" without exception; @NCHouseSpeaker blames @nchousedems for "missing work." @ABCPolitics @NCHouseGOP @ABC11_WTVD @JTHVerhovek #ncga #ncpol pic.twitter.com/BWsBegPOhi

— Jonah Kaplan (@KaplanABC11) September 11, 2019
The override still needs to pass the state senate for the budget to go into effect. Whether there will be consequences for the Republicans in the House who pulled this maneuver remains to be seen.
This article has been updated for clarification surrounding the absence of the Democrats.