WATCH: Democratic Congresswoman Gives Steve Mnuchin Lesson in Basic Civics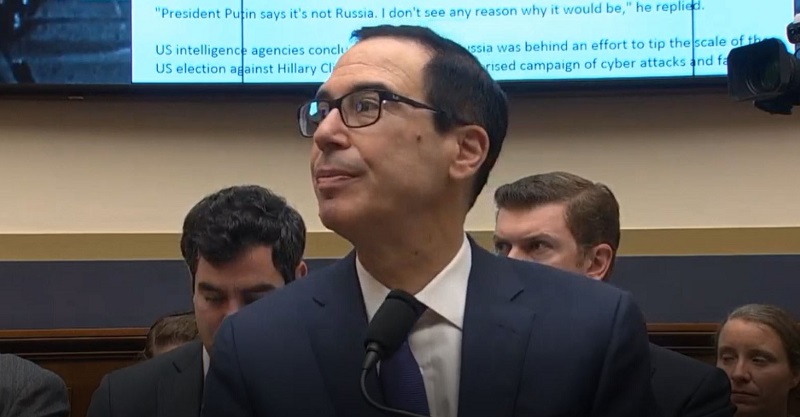 Congratulations to Treasury Secretary Steve Mnuchin on having passed a sixth grade-level civics class at the age of 56.
Mnuchin was testifying to the House Financial Services Committee Wednesday morning. Rep. Jennifer Wexton (D-VA) decided to grill him on his recent decision to ignore a congressional subpoena from the House Ways and Means Committee and refuse to release President Trump's tax returns.
First, Wexton read the legislative language of statute # which reads that "the Secretary shall furnish the Ways and Means Committee with any return information specified in the request." Further, as Wexton points out, the statute does not require the chairman of the committee to give a reason for requesting the returns.
This is the heart of Mnuchin's and the Trump administration's refusal to turn over the president's tax returns. They claim that there is no reason for Congress to see the returns. As Wexton keeps reminding Mnuchin, they don't need a reason.
Wexton quoted Mnuchin's letter responding to Ways and Means last week, in which he said that "the request lacks a legitimate legislative purpose."
"Now you understand," she continued, "that we're the legislative branch and we make decisions about legislating, right?"
Smirking a bit, Mnuchin responded, "I understand that there are three different branches of government and they perform different functions."
"And you're the executive branch," Wexton said. "Which executes the laws. You don't make the laws. We make the laws."
The unstated question here is who enforces the laws when members of the executive branch refuse to do so? It's an important question at the moment.
Mnuchin also claimed he has not talked to the president or anyone else in the administration about his "desire or willingness" to provide the returns to Congress. Which might be true, but it is for darn sure people below Mnuchin and Trump have. Staff doesn't communicate the president's desires to the Treasury Secretary by telling him to read Twitter.
Watch the video up top, via YouTube.