Republican Senators Rush to Condemn Subpoena of Don Jr. Issued by a Republican Senator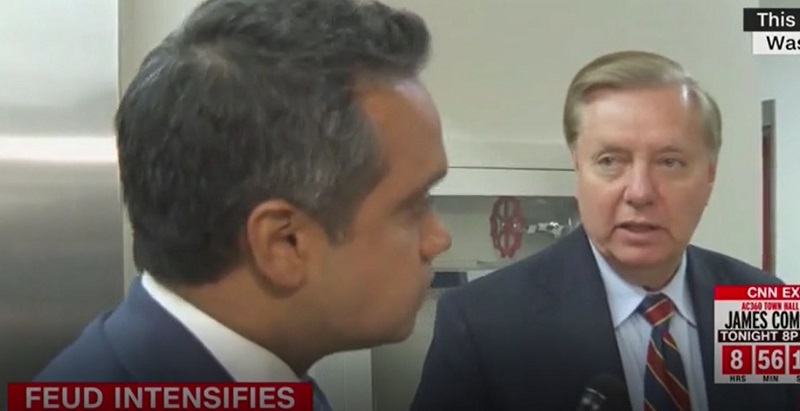 News broke on Wednesday that the Senate Intelligence Committee has issued a subpoena to Donald Trump Jr., requiring he give further testimony as the committee continues its investigation into Russian interference in the 2016 election.
Since the committee has a Republican majority and the subpoena had to be approved by its Republican chair, Richard Burr of North Carolina, the news came as quite a surprise.
Even more interesting, the Mueller report noted that Burr seems to have given sensitive information about the FBI's Russia investigation to the White House after a classified briefing on its status in 2017. Which gave the impression he was inclined to help Trump avoid any accountability on the issue.
Coming just the day after Senate Majority Leader Mitch McConnell declared "case closed" on the Russia investigation in a speech on the Senate floor, the subpoena has other Republican senators hopping mad. Especially those, as Kaitlan Collins pointed out on CNN, who are up for re-election in 2020.
Sen. John Cornyn (R-TX) told CNN's Manu Raju that "the rationale to keep the committee investigation open is wearing kind of thin." Lindsey Graham was even more blunt, saying "I'm over, I'm done, " with regard to further investigations, which is what he, as the chair of the Senate Judiciary Committee, has been saying for days.
Sen. Thom Tillis (R-NC) and Sen. Rand Paul (R-KY) both signaled their displeasure on Twitter:
I agree with Leader McConnell: this case is closed. The Mueller Report cleared @DonaldJTrumpJr and he's already spent 27 hours testifying before Congress. Dems have made it clear this is all about politics. It's time to move on & start focusing on issues that matter to Americans. https://t.co/11THs9LE0j

— Senator Thom Tillis (@SenThomTillis) May 9, 2019
Apparently the Republican chair of the Senate Intel Committee didn't get the memo from the Majority Leader that this case was closed… https://t.co/jvV5PIX266

— Senator Rand Paul (@RandPaul) May 8, 2019
Cornyn, Graham and Tillis are all up for re-election in 2020. As Collins pointed out, they could be hoping Trump Jr. will campaign for them, as he did for other Republicans in 2018.
Trump Jr. testified for 27 hours to the committee in 2017, reportedly with the agreement that he would not have to appear again. Now that the committee has found discrepancies between his testimony and the findings of the Mueller report, it has apparently changed its mind.
Trump Jr. is reportedly considering either pleading the Fifth Amendment or just ignoring the subpoena altogether. Whether there would be any consequences for ignoring it, such as being held in contempt or even jailed, as would happen to many other citizens who ignore congressional subpoenas, remains to be seen.
Watch the video up top, via CNN.