Florida Bar Moves Forward With Matt Gaetz Investigation for Intimidating Michael Cohen Before Hearing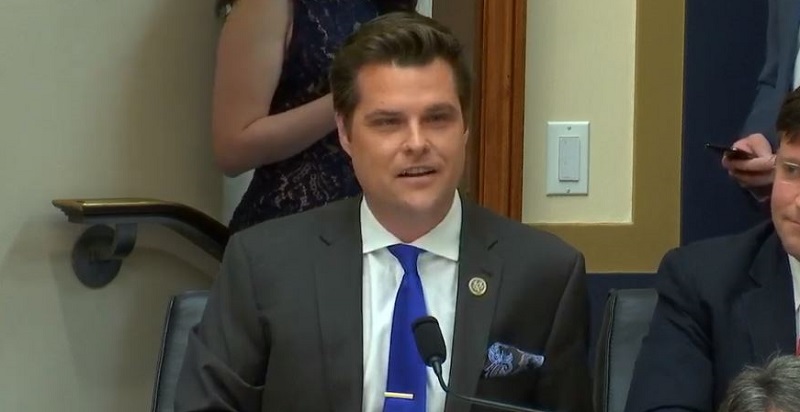 Matt Gaetz is not getting the Medal of Freedom — yet — for his attempt at intimidating former Trump fixer Michael Cohen before the latter's testimony to Congress in February.
But disbarment? That or some other punishment could still be in play.
The Tampa Bay Times reports that "a grand jury-like panel called the Grievance Committee" will decide if there is "probable cause" to believe Gaetz's tweet at Cohen constituted witness intimidation. If so, that would violate rules of conduct for lawyers in Florida, where Gaetz is licensed to practice law.
Investigation by the Grievance Committee is the second step in the process. Had an initial review by the Florida Bar determined that Gaetz should not be disciplined, the case would have stopped. Depending on the committee's findings, the next step could be filing a formal complaint with the state's Supreme Court, which could then hold a trial.
Gaetz sent the menacing tweet the night before Cohen appeared before the House Oversight Committee to testify about some of his illegal conduct while working for Trump, much of which he claimed to undertake at the president's direction. The tweet read, "Hey @MichaelCohen212 – Do your wife & father-in-law know about your girlfriends? Maybe tonight would be a good time for that chat. I wonder if she'll remain faithful when you're in prison. She's about to learn a lot…"
Gaetz deleted the tweet once he realized it was so problematic that even Sen. Rick Scott (R-FL), a man not known for scrupulous adherence to ethical codes of conduct, called it "disgusting."
Gaetz's office commented only that it believed the Florida Bar "will not impair his vigorous and successful representation of his district." Which presumably it won't. But it might take away his right to vigorously and successfully represent his clients, should he ever get voted out of Congress and want to return to practicing law.