French Ambassador Rebuts Trump on Notre Dame Fire: 'It's Not Possible to Use Water Tankers'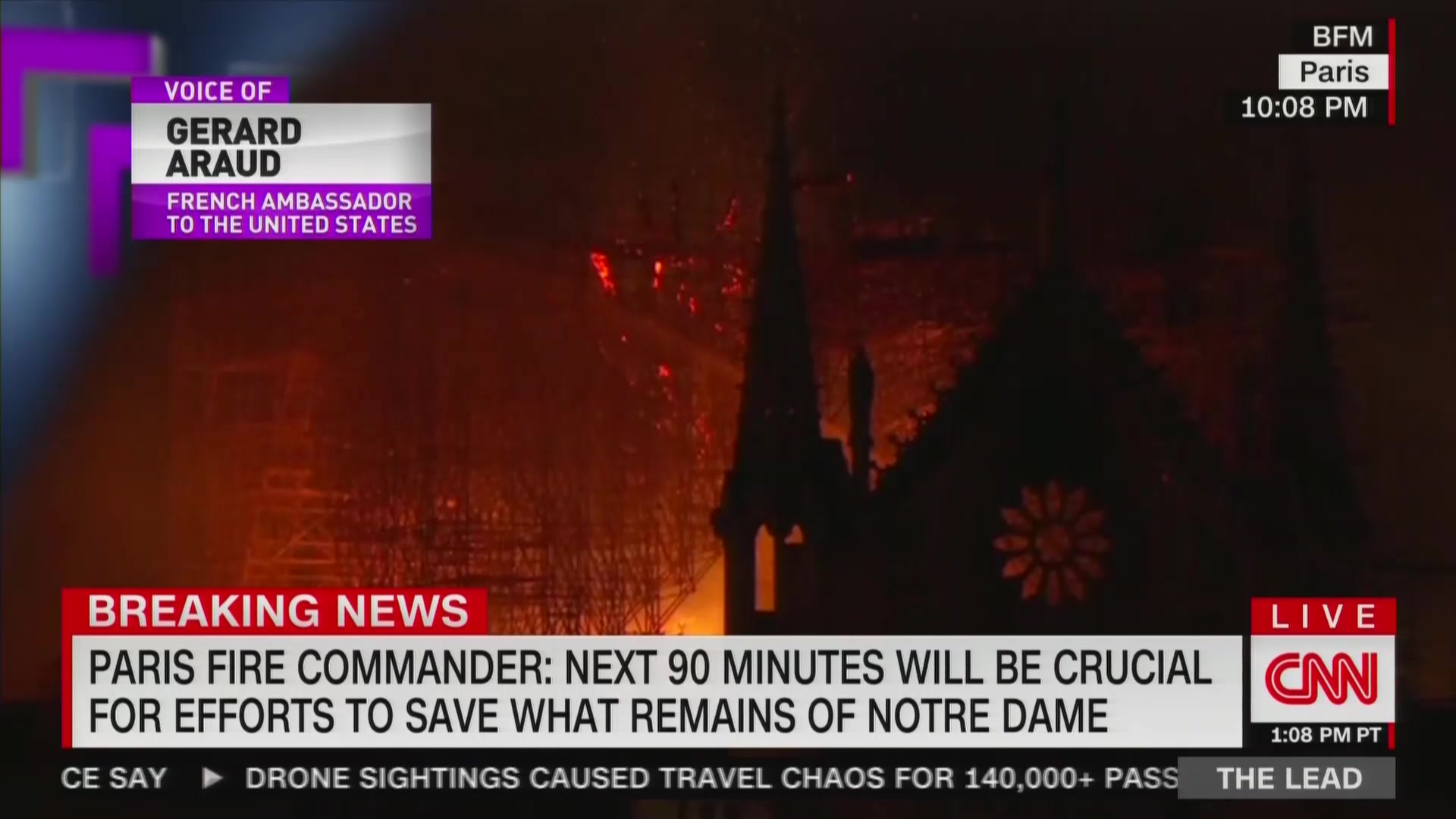 Hours after President Trump wondered why French firefighters weren't using "flying water tankers" to put out the raging blaze that had engulfed the Notre Dame Cathedral in Paris, the French ambassador to the United States explained that it was "not possible" to heed Trump's unsolicited advice on firefighting.
Calling into CNN Monday afternoon, French Ambassador Gerard Araud got a bit emotional discussing the fire that caused the cathedral's iconic spire to collapse with CNN anchor Jake Tapper, noting that "it's the symbol of Paris" and "a thousand years of my history" after Tapper said that French officials had said the upcoming 90 minutes were critical when it came to the structure's integrity. (It has since been reported that the structure will remain intact.)
"You know, it's awful," Araud added. "You know, I'm sorry to be so emotional, but, you know, there are not words to say."
Tapper went on to ask Araud if had been given "any indication how close firefighters are to getting this fire out" and how confident he was they'd be able to beat back the fire within the next hour-and-a-half, prompting the ambassador to toss a bit of shade Trump's way.
"So if the firemen don't succeed to stop the fire in one hour and a half, all of the cathedral is totally destroyed," Araud replied. "And it's quite difficult. The fires at 100 feet, as was explained, it's not possible to use water tankers, which could only worsen the situation of the building. So I think we have only to pray now."
In a tweet sent Monday afternoon, Trump wrote that it was "horrible to watch the massive fire" and perhaps "flying water tankers could be used to put it out."
So horrible to watch the massive fire at Notre Dame Cathedral in Paris. Perhaps flying water tankers could be used to put it out. Must act quickly!

— Donald J. Trump (@realDonaldTrump) April 15, 2019
Watch the clip above, via CNN.