WATCH: William Barr Dodges When Asked If White House Has Seen Mueller Report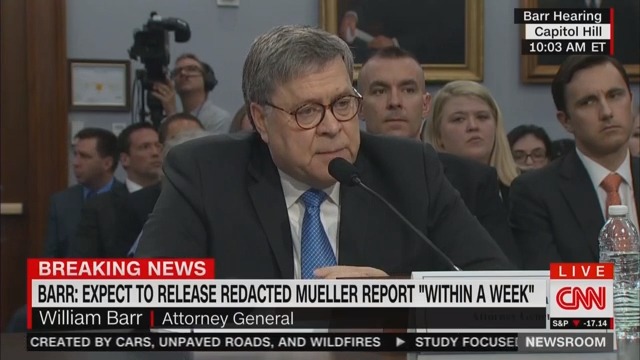 During Attorney General William Barr's testimony before the House Appropriations Committee on Tuesday, the attorney general declined to answer when directly asked if the White House had seen Special Counsel Robert Mueller's report, stating that he has said all he's going to say on the matter.
"Did the White House see the report before you released your summarizing letter?" Rep. Nita Lowey (D-NY) pressed Barr. "Has the White House seen it since then? Have they been briefed on the contents beyond what was in your summarizing letter to the Judiciary Committee?"
"I have said what I'm going to say about the report today," he replied. "I have issued three letters about it. And I was willing to discuss the historic information of how the report came to me and my decision on Sunday."
Barr went on to say that he'd already discussed the process surrounding the release of the Mueller report and that it should be coming out within a week before declaring that he wasn't going to "say anything more about it" until after the report is made public.
Lowey noted that she did believe there were some relevant questions he could still answer, asking Barr about the memo's assertion that the president wasn't not exonerated on the issue of obstruction of justice.
"Yet President Trump has publicly stated that this report is a complete and total exoneration," the Democratic lawmaker stated. "Can you tell us who is factually accurate and will the released report include details on the obstruction issue and why as you noted the president is not exonerated or will that information be redacted?"
Barr responded that he had already explained what information would be redacted from the report before it's made public and that he wasn't going to discuss it any further until after everyone had been given a chance to see the report.
Watch the clip above, via CNN.